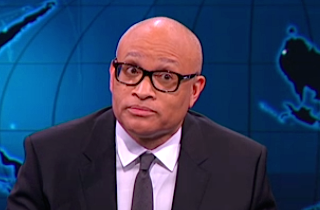 During the intro to The Nightly Show show Wednesday night, Larry Wilmore said, "A white cop has been charged in the killing of an unarmed black man. In the cop's defense, he had no idea it was on video." But that was more or less the last joke he told about the shooting of Walter Scott.
Later in the show, when Wilmore addressing the incident, he did so with a level of seriousness rarely seen on his show. "For the record, this crazy black thug was attacking him and he did what he had to do," the host said of Officer Michael Slager. "But this time, we actually have the record," he added, playing a portion of the cell phone video on screen.
"Yesterday, after the video was released, Officer Slager was charged with murder… and that's the great news!" Wilmore declared. "By the way, that's how low the bar is right now on great news. Right? I mean the fact that a cop who coldly murdered someone on camera even facies the remote possibility of justice is giving me the warm fuzzies."
For contrast, Wilmore showed video of a cop taking down two white spring break bros on the beach. "This is going to turn tragic any second," he warned, before it didn't.
"Wait, that's it? These two white guys jumped a police officer and they wind up in a three-way sand tickle fight? And the brother from South Carolina was running from the cop and he's not alive today," he concluded. "I've said it once before: I'll stop talking about this shit when it stops happening."
Watch video below, via Comedy Central:
[Photo via screengrab]
— —
>> Follow Matt Wilstein (@TheMattWilstein) on Twitter
Have a tip we should know? tips@mediaite.com