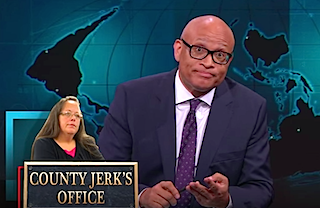 Returning from a two-week break Tuesday night, The Nightly Show's Larry Wilmore could have chosen to tackle any number of stories he missed. But for his main segment, he decided to do a deep dive into the saga of Kentucky county clerk Kim Davis and her campaign against same-sex marriage.
"People are calling her brave because she's speaking her mind," Wilmore said of Davis. "But if speaking her mind hurts other people, that's not brave, that's bullshit."
Pointing out that "speaking your mind" is a quality that is apparently valued over all else right now in this country, Wilmore said, "I mean, it doesn't matter that Donald Trump called Mexicans rapists, he was speaking his mind."
Moving on to Davis' "Eye of the Tiger"-fueled exit from jail, Wilmore noted, "I don't know about you guys, but when I see a group of people in the South with white crosses, cheering to not allow people their constitutional rights, it kind of just gives me a tingly, lynch-y feeling."
But Wilmore saved his harshest critique for one Fox News contributor who compared Davis to Dr. Martin Luther King, Jr. "Motherfucker, you know you've never quoted Dr. King in your life," the host said, before explaining the difference between Davis and King.
"Martin Luther King was actually in opposition to the church's unwillingness to support the oppressed," Wilmore said. "Kim Davis, on the other hand, is using her church to oppress people even more."
Watch video below, via Comedy Central:
[Photo via screengrab]
— —
>> Follow Matt Wilstein (@TheMattWilstein) on Twitter
Have a tip we should know? [email protected]