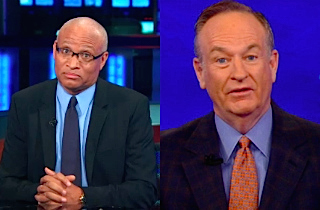 Larry Wilmore may have replaced Stephen Colbert in Comedy Central's late night lineup, but as he told The New York Times Magazine in an interview published this week, he doesn't have quite the same "beef" with Colbert's "Papa Bear" Bill O'Reilly.
"Colbert was his antidoppelgänger," Wilmore said of the Fox News host. "I don't have any beef with O'Reilly. Sometimes O'Reilly says some things that I agree with."
Wilmore said that rather than serve as a "Fox News critique machine," his show aims to take on the "point of view of the underdog or the underrepresented," adding, "I actually want to do a show about black conservatives, because that is an underdog group, to me."
Speaking of black conservatives, Wilmore, who admitted early in his new show's run that he voted for President Barack Obama because he's black, said that outlook would not extend to a figure like Dr. Ben Carson.
"See, I have already voted for the first black president. That can never happen again," he explained. "So I am now free from voting for someone because they are black. Sorry, second brother. Now you gotta show me what you got."
While Wilmore says he doesn't have any "beef" with Bill O'Reilly, that didn't stop him from delivering a searing monologue against him back in July 2013 when he was still The Daily Show's senior black correspondent.
After showing a clip of O'Reilly stating, "White people don't force black people to have babies out of wedlock," Wilmore added, "True, just like no one's forcing Bill O'Reilly to be such an asshole."
Watch video below, via Comedy Central:
[Photo via screengrab]
— —
>> Follow Matt Wilstein (@TheMattWilstein) on Twitter
Have a tip we should know? tips@mediaite.com