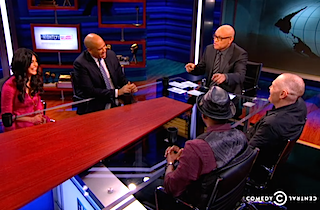 The Nightly Show with Larry Wilmore premiered last night following The Daily Show and after an opening segment that offered some good insights on the "State of the Black Protest," but was rather unimaginative stylistically, the debut episode kicked into a more lively gear once the refreshingly diverse group of panelists joined the host.
If The Nightly Show's two panel segments are reminiscent of anything else on television, it has to be Real Time with Bill Maher, or perhaps even more so that comedian's previous show, Politically Incorrect. As in the case of Maher's shows, Wilmore is using the format popularized by the Sunday morning political shows — and now much of the daytime cable news landscape — to have a humorous but substantive conversation about the news.
But while Maher's weekly panels have become relatively staid and predictable, perhaps veering too closely towards the "real" news shows they aim to upend, with his first show Wilmore has already breathed new life into the format, mostly thanks to the loose, freewheeling nature of the conversation and a deliberately diverse group of panelists who have never been this well represented on late night TV.
On Monday night, Wilmore brought together Sen. Cory Booker (D-NJ), rapper Talib Kweli and the show's own correspondent Shenaz Treasury. Rounding out the group was token white guy, comedian Bill Burr. Upcoming shows will include a similarly diverse group that will include Amy Holmes, John Leguizamo, Soledad O'Brien, David Remnick, Frank Rich, Ilyasah Shabazz, Matt Taibbi and Baratunde Thurston.
In a recent interview with New York Magazine, Wilmore described his new venture as a new show from the perspective of the "underdog." He said, "I look at it in terms of top dog and underdog. Underdog gets to make fun of top dog, but top dog can't make fun of underdog. But guess what you get, top dog? You get to be top dog."
This sentiment was on display during last night's premiere, where, instead of the typical scenario in which the one black or one female guest has to speak for their entire race or gender, a conversation about Ferguson and the black protest movement was represented by a variety of black voices. Burr especially felt the role reversal when Wilmore asked him, "Are white people tired of black protests?"
Watch video below, via Comedy Central:
But things got even more interesting during the final segment of the show when Wilmore presented a little game called "Keep It 100." Just as Stephen Colbert introduced "The Word" on day one and it remained one of The Colbert Report's most beloved features for the next nine years, this game, in which the panelists are judged on their ability to keep it 100% real when faced with potentially uncomfortable questions, is bound to become a staple of the nascent show.
Even more than in the first segment, this bit immediately pulled Wilmore's guests out their respective comfort zones, with Kweli unable to say whether hip hop is part of the "problem" or part of the "solution" for black culture. Burr did a lot better when he was asked if he would rather have a black or white child. The only real buzz kill of the segment came when Sen. Booker got a question about his presidential ambitions.
Watch video below, via Comedy Central:
When CBS announced Colbert as the replacement for David Letterman and James Corden as the new Craig Ferguson, there was a feeling that even in 2015, late night TV could not escape its identity as the land of the white guys.
By tapping Wilmore to replace Colbert on Comedy Central, Jon Stewart was lauded for attempting to address late night's diversity problem in at least some small way.
While The Nightly Show has a long way to go before it achieves the iconic heights of its predecessor, in just one half hour episode it has demonstrated why it is such a vital new addition to the late night scene. And if Wilmore can keep pushing his guests to keep it 100 as much as possible, it will without a doubt become the most fun panel on TV.
[Photo via screengrab]
— —
>> Follow Matt Wilstein (@TheMattWilstein) on Twitter
Have a tip we should know? tips@mediaite.com