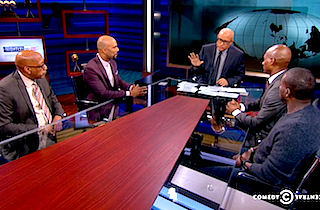 The Nightly Show, Larry Wilmore's new Daily Show follower that's about to end its second week on-air, has thus far been a funny, loose, and slightly edgy comedy show, tackling everything from Bill Cosby rape allegations to Tom Brady's balls with the extra grit you'd expect from a cable version of the major nightly franchises.
What it hasn't been is new, which its predecessor The Colbert Report undoubtedly was from the moment it aired.
That changed Wednesday night, as Wilmore skipped his reliable-but-rarely-essential monologue segment in favor of an extended panel discussion on black fatherhood. Wilmore has featured free-flowing panel segments on each of his shows, but last night the entire episode was devoted to a sustained examination of a single statistic, that 72% of black children are born to unwed mothers, a subject more often wielded in the political discourse as a cudgel than approached as an experiential reality.
The panelist selection was key to the show's success, a smart blend of the intellectual (New York Times columnist Charles Blow, author of a recent James Baldwin-esque memoir), cultural (Common), political (Joe Jones of the Center for Urban Families) and comedic (Nightly Show regular Mike Yard). Each of the men told personal tales of growing up with fathers who either impressed lessons upon them or acted as cautions through drug abuse, and how they took or converted those lessons with their own children.
The personal was balanced by the analytic: Blow brought sociopolitical context to the statistic, while Common complicated its surface. "Unwed," Common reminded everybody, "doesn't mean absent," opening up a dialogue on the nuances elided by the stats quoted about the African American community by hectoring figures like Bill O'Reilly. All this was intercut with a man-on-the-street interview montage, which for once was conducted with the purpose of soliciting input rather than exposing ignorance.
It was as if Wilmore took the smart portions of Melissa Harris-Perry's weekend morning show and spliced it with a de-smugged Real Time with Bill Maher. With the panel providing the substance, Wilmore's comedic interpolations felt natural and welcome — "I don't believe 72% of anything Don Lemon says." — and less like he was trying to hit a laugh line quota.
This episode appears to be part of trend, along with John Oliver's Last Night Tonight, of cable comedy shows forgoing the segment-length bit for longer dives into a single subject. Like Oliver, who airs weekly and has a vacation schedule that would embarrass a European, it's unlikely Wilmore can pull this off every night. But if once a week he can organize a nimble and incisive panel to unpack at length and breadth a subject normally mired in demagoguery, Wilmore will have planted his comedic flag in a crucial and underserved cultural acre.
Watch the first segment below, via Comedy Central:
[Image via screengrab]
——
>> Follow Evan McMurry (@evanmcmurry) on Twitter
Have a tip we should know? tips@mediaite.com