Las Vegas Anchor Sue Manteris Launches Age Discrimination Suit Against KSNV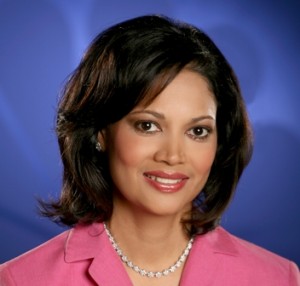 News anchor Sue Manteris has filed a lawsuit with the U.S. Equal Employment Opportunity Commission against her former employer, Las Vegas' NBC-owned KSNV-TV station, alleging the station fired her because she was over 40 years old, a mother, and "non-white."
Although Manteris had been told that her contract was being terminated due to cost-cutting measures, she insists she faced continuous discrimination due to her age and race in addition to her desire to balance work and motherhood. In her suit, Manteris names, among others, KSNV owner Valley Broadcasting Co. and news director Bob Stoldal. Stoldal, she claims, replaced her with a younger white anchor "with little experience" for the station's 11 pm anchor position. In fact, her suit alleges that nearly every personnel decision Stoldal made "has favored the young, the Caucasian, and/or the male candidate."
Explains Manteris:
This is not a fight that I sought, but unfortunately it was not a fight I could run away from either. This case as I see it is about "Principles, Ethics, and the Law of our Land". I think that my viewers and friends know that this case is not just about me.

Cost-cutting measures cannot target all minority workers in a department, and women over 40 only; not in this millennium, not in this country. Unfortunately, some businesses still need to learn that.
We asked Mediaite's own expert on local news, Mark Joyella, to weigh in on Manteris' situation. While he concedes that the idea that some, especially women, can be considered "too old" for the newsroom isn't new by any means, he adds that the station "makes a modern twist in its argument, though, saying it's about cost-cutting. Obviously, the longer an anchor is with a station, the more money you can assume they're making." But it isn't as if that's an outlook held by every station:
The flip side is there are a ton of stations – and networks – that will eagerly point to mature female anchors as proof gender bias is not an issue.
And Manteris – who, if her interview in "Best of Las Vegas" is anything to go by, enjoys exceptionally strong ties to her viewing community – is not without strong female colleagues. KLAS' Paula Francis, for instance, enjoys the distinction of having been chosen "Best TV Anchor in Las Vegas" by Las Vegas Review-Journal readers every year since 2000, except in 2004.
That's not to say, of course, that Manteris is alone where ageist and sexist discrimination against women in TV news is concerned. In 1999, Hartford anchor Janet Peckinpaugh successfully sued her CBS station for having discrimination. The following is from The New York Times:
The anchor, Janet Peckinpaugh, had charged that the managers of the CBS station here decided not to renew her contract in 1994 because they had three anchorwomen and two anchormen, and decided in advance to drop one of the women to make the pairs come out even. Ms. Peckinpaugh, who is now 48, had also accused the station of jettisoning her because of her age.

Indeed, Ms. Peckinpaugh had said she filed her suit partly out of concern for the many anchorwomen who will soon be moving into their 40's. But in a surprise to her and many lawyers, the case turned on something even more basic — her sex.
An additional layer in Manteris' lawsuit, however, is her allegation that the station also "bullied and harassed" her over her desire to balance her work with raising her son. In fact, she says she was being promoted on-air, rather oddly, as an "Anchor Mom."
h/t Daily Mail
Have a tip we should know? tips@mediaite.com