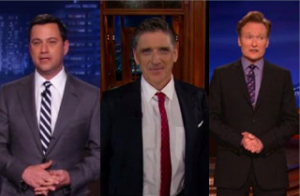 As often happens when tragedy strikes in this country, Americans look to comedians to see if and how they will react. Of the full slate of late night show, only three are scheduled to air new episodes tonight: Jimmy Kimmel on ABC, Conan O'Brien on TBS, and Craig Ferguson on CBS. Jon Stewart, Stephen Colbert, David Letterman, Jay Leno and Jimmy Fallon all have scheduled reruns tonight.
The three hosts who taped new shows this afternoon each addressed the bombings up front before moving on to their standard comedy fare.
Conan O'Brien, who himself grew up in Brookline, Massachusetts, told his audience what it was like to see this "senseless act" happen in his hometown:
"We have a great show for you tonight. But first, I have to mention what an upsetting and sad day it's been. Boston is my hometown – it's where I grew up, and it's where my family lives. So I just wanted to take a moment to say that – like everyone here – my thoughts and prayers are with the people of Boston and everyone who has been affected by this senseless act. That said — it is our job to do a show. We're going to try and entertain you the best we can. Which, given our track record, gives you people a 20% chance of having a good time tonight."
Craig Ferguson discussed his personal history with the city of Boston, where he celebrated the 4th of July after becoming an American citizen:
"People say to me 'Craig, your job is to make people laugh at the end of the day.' And I think, yes, that's true, but I've never professed to be any damn good at that. And, the thing is, people want their mind taken off it. And I think, well ok, if you want your mind taken off it, you know, watch a cartoon or a video or something. I understand it, it's perfectly acceptable. I don't think it's a terrible thing to not want to think about it, but I can't not think about it.

Also, I have a personal connection with the city of Boston. I have some history there. I have family there. When I became an American citizen in 2008, I spoke at Faneuil Hall on July 4, at the invitation of Tommy Menino who is the mayor of Boston, and one of the more colorful characters in American politics…. I've been there for the Fourth of July many times… and every cop in Boston looks like I'm his brother… My first stand up special in America, I shot it in Boston. I like that town . I'm appalled by this thing and when I watch it on these streets that I know, it's horrifying."
While Letterman, Leno and Fallon are on vacation this whole week, The Daily Show and The Colbert Report are scheduled to return Tuesday night, April 16th, so we await to see how they react to this tragic event then.
Read the full statements at Deadline.com.
Look for videos of the remarks on Mediaite as video becomes available.
—
>> Follow Matt Wilstein (@TheMattWilstein) on Twitter
Have a tip we should know? tips@mediaite.com