Late Night Ratings Watch: Colbert's Debut Week Beats Fallon in Total Viewers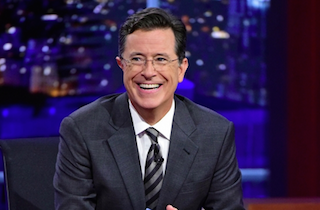 Stephen Colbert's Late Show may have seen a significant drop in ratings after a strong first night on CBS. But when all was said and done last week, he still managed to beat NBC's Tonight Show Starring Jimmy Fallon in the total viewer ratings.
For the shortened week of September 8-11, Colbert averaged 4.454 million viewers compared to 3.943 million for Jimmy Fallon. ABC's Jimmy Kimmel Live came in a distant third with 1.965 million. However, in the coveted 18-49 demographic, Fallon managed to hold onto his winning streak with a 1.20 rating, beating Colbert's 0.94 and Jimmy Kimmel's 0.44.
Colbert's total viewer win was not enough to lift CBS' Late Late Show with James Corden over NBC's Late Night with Seth Meyers. In total viewers, Seth Meyers topped James Corden 1.727 million to 1.435 million, while in the demo, Meyers beat Corden 0.57 to 0.35.
Another area in which Fallon remains king so far is online viewers. With just 306K YouTube subscribers, Colbert has a long way to go until he catches up with Fallon's towering 8.2 million. That makes it a lot easier for the Tonight Show host to pump out viral hits.
Last week, Fallon released seven videos that have topped 1 million views each on YouTube, including his mirror sketch with Donald Trump, which is approaching 5 million and his lip sync battle with Ellen DeGeneres, which is almost at 10 million.
By comparison, Colbert's most-watched video last week — his emotional sit-down with Vice President Joe Biden — currently sits at just over 2 million views. And only two other of his videos from last week broke that 1 million mark.
Here's a look at the most popular video for each of the three big late night shows last week on YouTube (as of Thursday, September 17):
Tonight Show Starring Jimmy Fallon (NBC): Lip Sync Battle with Ellen DeGeneres, 9,890,812 views

Late Show with Stephen Colbert (CBS): Vice President Joe Biden Interview, Part 1 2,039,122 views

Jimmy Kimmel Live! (ABC): First Look: Apple's New iPhone 6S, 1,596,482 views
Already this week, Fallon has started to pull away from Colbert, reinstating his place as the perpetual leader in late night ratings, both in total viewers and the demo. With a post-GOP debate appearance by Hillary Clinton last night, Fallon had his best overnight ratings in seven months. But so far, at least, Colbert has managed to stay solidly ahead of Kimmel, including in the younger demo that often plagued David Letterman in more recent years.
Until he becomes better established, it is going to take big moments for Colbert to beat Fallon in the late night ratings. Fortunately for him, he has one coming up next Tuesday in the form of Donald Trump.
[Photo via screengrab]
— —
>> Follow Matt Wilstein (@TheMattWilstein) on Twitter
Have a tip we should know? tips@mediaite.com