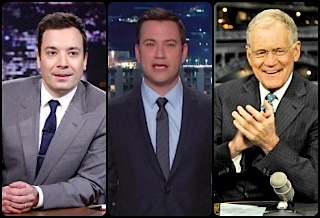 With long-time ratings leader Jay Leno once again out of the late night picture, this time after 22 years on the air, the ratings for the big three networks' nightly offering could see their biggest shake-up in years. Will David Letterman be able to poach enough of Leno's older audience to take the lead in total viewers? Will Jimmy Kimmel build on the momentum he had when he moved to 11:35pm last year? Or will Jimmy Fallon keep the Tonight Show on top, making it an even more or a powerhouse when it comes to the coveted 18-49 demographic?
So far, Fallon is the clear winner. In his first full week on the job, Fallon averaged 8.490 million viewers, making it the most-watched week of the Tonight Show in more than 20 years (the previous high of 9.080 came when Cheers had its finale in May 1993). In the demo, Fallon had a 2.8 rating, the show's best figure in 9 years (since January 2005, when the show paid tribute to Johnny Carson). Fallon's Friday show, featuring Justin Timberlake, drew 8.778 million viewers, down just 14% from the 11.314 million who watched his Monday debut, and up from the Wednesday and Thursday totals.
Here's the breakdown for the week of February 17-21, 2014, according to Nielsen's "fast official" results:
Tonight Show Starring Jimmy Fallon (NBC): 8.490M total viewers, 2.8 in 18-49 demo

Late Show with David Letterman (CBS): 2.629M total viewers, 0.6 in 18-49 demo

Jimmy Kimmel Live! (ABC): 2.226M total viewers, 0.5 in 18-49 demo
And, since today's late night viewers are not only watching on TV, here's a look at the most popular video for each of the three shows this week on YouTube (as of Monday, February 24th):
Tonight Show Starring Jimmy Fallon (NBC): "Evolution of Hip-Hop Dancing" (w/ Jimmy Fallon & Will Smith), 10,095,702 views

Jimmy Kimmel Live! (ABC): Jimmy Kimmel Reveals "Epic #SochiFail: Wolf in My Hall" Prank, 1,192,527 views *note: we are not counting the 12 million+ views on Kimmel's Guardians of the Galaxy premiere trailer, because that's cheating.

Late Show with David Letterman (CBS): David Letterman – How I Met Your Mother Top Ten, 100,337 views
RELATED: Jimmy Fallon's Tonight Show Debut Kills, Especially on YouTube
Now, Fallon's impressive figures can easily be chalked up to excitement over his first week on the air. The Sochi Olympics lead-in every night likely helped as well, though it may have been off-set by the fact that the show started at a later-than-usual 12:05am every night but Friday. Additionally, with guests like Will Smith, First Lady Michelle Obama and Timberlake, NBC was going all out to make sure Fallon started strong. The real test will be in the coming weeks when things calm down and Fallon has a more reasonable slates of guests.
But for now, Fallon can gladly accept his crown as the undisputed king of late night. He didn't just come out ahead of Kimmel and Letterman — he annihilated them. His competition will be forced to step up their respective games if they want to truly compete. Letterman's already come up with one intriguing idea: booking Jay Leno.
[photo via screengrab]
— —
>> Follow Matt Wilstein (@TheMattWilstein) on Twitter
Have a tip we should know? tips@mediaite.com