Late Night Ratings Watch: Fallon Down, But Still #1 as Kimmel's Audience Grows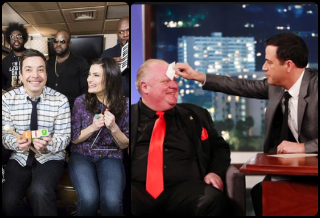 In Jimmy Fallon's third week on the air as host of The Tonight Show, NBC's late night ratings continued to trend downward as the competition on ABC increased. While Jimmy Kimmel Live's audience grew for the second consecutive week (+4% in total and +12% in the 18-49 demo), Fallon was down 21% in total and 24% in the demo. Despite those shifts, Fallon still stood at #1 in both categories, drawing more viewers in the demo than Jimmy Kimmel and David Letterman combined.
Over the last three weeks, Fallon went from averaging 8.5 million total viewers, down to 5.5 million and now to 4.5 million. During that same period, went from 2.3 million to 2.6 million up to 2.7 million. Kimmel was bolstered last week by Toronto Mayor Rob Ford's appearance on Monday night and the general afterglow of the Oscars of ABC. This week, Kimmel's show is airing live from Austin's SXSW festival, which could give him another boost over Fallon. Though, so far, it looks like Fallon will maintain his lead again.
Here's the breakdown for the week of March 3-7, 2014, according to Nielsen's "live plus same day" data:
Tonight Show Starring Jimmy Fallon (NBC): 4.537M total viewers, 1.34 rating in 18-49 demo

Late Show with David Letterman (CBS): 2.761M total viewers, 0.56 rating in 18-49 demo

Jimmy Kimmel Live! (ABC): 2.744M total viewers, 0.73 rating in 18-49 demo
And, since today's late night viewers are not only watching on TV, here's a look at the most popular video for each of the three shows last week on YouTube (as of Thursday, March 13th):
Tonight Show Starring Jimmy Fallon (NBC): Jimmy Fallon, Idina Menzel & The Roots Sing "Let It Go" from "Frozen" (w/ Classroom Instruments), 7,773,297

Jimmy Kimmel Live! (ABC): Joseph Gordon-Levitt Recreates David After Dentist, 4,953,542 views

Late Show with David Letterman (CBS): David Letterman – Future Islands: "Seasons (Waiting On You)", 265,474 views
Any negative feelings NBC may have having about Kimmel's rise may be outweighed by the good news happening during the 12:30am hour. In its second week, Late Night with Seth Meyers managed to retain much of his premiere week audience, pulling in 2.073M total viewers, down from 2.7 million during his first week.
In the 18-49 demo, Meyers had an impressive 0.71 ratings, beating Letterman and nearly matching Kimmel despite airing an hour later than those shows. Meyers' main competition, CBS' Late Late Show with Craig Ferguson, trailed with 1.386M total viewers and a 0.35 in the demo.
Previously: Late Night Ratings Watch: Fallon Stays in 1st Place, Meyers Starts Strong
[photos via screengrab]
— —
>> Follow Matt Wilstein (@TheMattWilstein) on Twitter
Have a tip we should know? tips@mediaite.com