Late Night Rumors: Leno To Fox, Meyers To Late Night, The 'Fallon Tax Credit' And More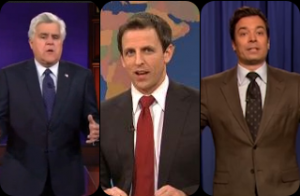 It's been two days since NBC first confirmed that they are planning to bring the Tonight Show to New York City and install Jimmy Fallon as host when Jay Leno's contract is up next fall. And now the late night rumor mill is in full swing. Here's a look at some of the biggest stories floating around this morning about the big shake-up.
Fox Wants Leno… at 11pm
The New York Post is reporting that the chair of Fox's affiliate board, representing the hundreds of local Fox stations around the country, would be very interested in installing Jay Leno in a new late night show. Ideally, board chairman Steve Pruett told the Post, the new show would begin at 11pm and compete directly with the network newscasts that run directly before NBC's Tonight Show, CBS' Late Show and ABC's Jimmy Kimmel Live.
Currently, many Fox affiliates run syndicated sitcom reruns such as Seinfeld or The Big Bang Theory in that time slot so new programming from a ratings leader like Leno could be a real boon. However, Leno is under contract with NBC through May 2014 so its unlikely there would be much movement on this front any time soon.
NBC — And Lorne Michaels — Want Seth Meyers To Replace Fallon
Also from the New York Post, unnamed sources are floating Saturday Night Live head writer and "Weekend Update" anchor Seth Meyers as a likely replacement for Jimmy Fallon in the 12:30am Late Night slot. "Lorne Michaels wants Seth to take over from Fallon," one source reportedly said. "It would be perfect for him. Tina Fey's name had also come up, but she has said she was too busy to do it."
Meyers already works in 30 Rockefeller Plaza, where both SNL and Late Night tape their shows, and has plenty of experience joking about the news, both on "Weekend Update" and at the 2011 White House Correspondents Dinner. If Meyers does get the offer to replace Fallon, his decision to turn down the co-hosting gig on Live with Kelly! will have paid off in a major way.
New York Is Luring The Tonight Show Back East With The 'Fallon Tax Credit'
From the New York Daily News, comes this story about a tax credit quietly inserted into a tentative New York state budget that would be offered to "a talk or variety program that filmed at least five seasons outside the state prior to its first relocated season in New York." Other provisions, including the size of the studio audience and annual budget of the "hypothetical" show all align perfectly with the Tonight Show.
An unnamed aide to Gov. Andrew Cuomo reportedly denied that the tax credit was designed with the Tonight Show in mind, saying "This is simply part of our ongoing effort to attract more entertainment to the state and more economic activity."
—
>> Follow Matt Wilstein (@TheMattWilstein) on Twitter
Have a tip we should know? tips@mediaite.com