Late Prof. Derrick Bell's Widow Defends Him Against Sarah Palin And Co. 'Racist' Smear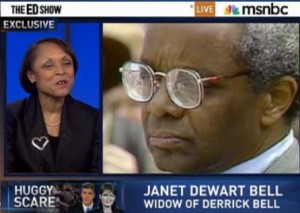 The late Professor Derrick Bell, who was the first black tenured professor at Harvard Law School, has become collateral damage in a failed conservative attempt to discredit President Obama. Smeared by conservative websites, and figures like Sarah Palin, as "radical" and "racist," and unable to speak in his own defense, Prof. Bell's legacy now rests with those who knew him. On Monday night's The Ed Show, the late professor's widow Janet Dewart Bell responded to these attacks on her deceased husband.
The conservative Breitbart.com family of Big sites have lately devoted themselves to smearing the late Professor Derrick Bell as a "radical" who committed the unspeakable outrage of hugging our future president, releasing the "incriminating" footage of then-Harvard Law Review President Barack Obama introducing Prof. Bell at a pro-diversity protest. Although the "Hug Scandal" has gotten very little traction in the mainstream media, the smears against Prof. Bell have mounted. Rather than explore the ways in which Prof. Bell's work has been twisted and smeared, Host Ed Schultz's interview with Prof. Bell's widow focused on the vicious attacks on his character.
Ed opened the segment with one such smear, a clip of Game Changer Sarah Palin calling Prof. Bell a "radical college racist professor" on the Hannity show (Palin went on to call Professor Bell a "racist" again, seconds later). Here's what Palin said to Sean Hannity about Professor Bell:
He then asked Ms. Dewart Bell for her reaction to these attacks.
"I am angry and I'm sad," she replied. "I'm sad they could be so dishonest. And it's just really part of that radical right wing and the right wing media's patterns of distortion and misinformation."
To her credit, though, Ms. Dewart Bell also saw an opportunity in the glare of attention. "I'm smiling because I want to lift up the memory of Derrick Bell," she daid. "Derrick Bell left a great legacy, not just to me and our family, but my husband was — if he were here today, he would be standing up for Sandra Fluke. You know, Gloria Steinem once named him an honorary woman, because he was a feminist before feminism was cool."
"That is the Derrick Bell that I know," she continued, the freshness of her loss (Prof. Bell died in October) evident in her choice of tenses. "He's a man of courage, of conviction. And he was always standing up for justice. It didn't matter who it was. He accepted people as they were."
Of Sarah Palin's attack, Ms. Dewart Bell said " It's outrageous. It's an outrage," adding that while this thing is to be expected from the ranks of right-wing provocateurs like Palin, Sean Hannity, Rush Limbaugh, and Bill O'Reilly, she asked "Where are the good people who are going to speak up on the right side, you know? There should be some moderate right people or moderate Republicans who speak up and say, 'This is not right.'"
She also pointed out that her late husband was beloved by students of every race and background, and that he was a war veteran who had earned the right to stand up for his beliefs. "Derrick thought that the ideals of fair play, social justice, equality, opportunity, those are things that should be shared."
Here's the clip, from MSNBC's 'The Ed Show':
Have a tip we should know? tips@mediaite.com