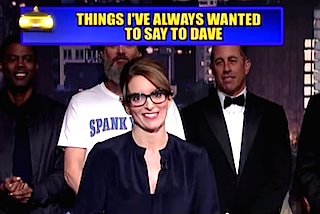 The hands-down highlight of David Letterman's final Late Show last week — especially if you're not a huge Foo Fighters fan — was the highly-entertaining, star-studded top ten list of "Things I've Always Wanted to Say To David Letterman." Now, thanks to a lengthy Tumblr post by longtime Late Show writer Bill Scheft, we have learned that numbers two and one were written by intern Caroline Schaper.
Scheft wrote:
8 of the 10 celebrities were happy with the lines we had written for them. Tina Fey and Julia Louis-Dreyfus wanted to consider other takes. Julia settled on a line written by Mike Leech ("Thanks for letting me take part in another hugely disappointing series finale….") which the next day was proclaimed the "winner" of the Top Ten. Tina took something a little more subtle and much more pointed ("Thanks for finally proving men can be funny….") That line, ladies and gentlemen, ladies and ladies, was written by Caroline, whose last name I don't know. I don't know because she was the writer's intern and we never got that formal. But on the last day of the last show, she scored the final two entries on the final Top Ten. Oh yeah, she already had Bill Murray's line ("Dave, I'll never have the money I owe you….") We were all genuinely thrilled for her. This 21-year-old has all the resume she needs going forward. I will be happy to help her in any way I can. But I'll need her last name.
Later, screenwriter and podcast host Brian Koppelman gave Scheft a hand by identifying the intern on Twitter (Scheft updated his post to give her the credit she deserved):
.@billscheft no, actually, I believe she is on the twitter: @carolimeschaper. Congratulations, Caroline.

— Brian Koppelman (@briankoppelman) May 24, 2015
Schaper tweeted her thanks to Letterman last Wednesday when the final episode aired:
David Letterman changed everything forever. Including my life. #ThanksDave

— Caroline Schaper (@carolimeschaper) May 20, 2015
Then today, she responded to the unexpected outpouring of adulation with a confession:
Thanks for your kind words but it's time to come clean:

I'm actually 22. I hope you all still like me! Your validation is all that matters!

— Caroline Schaper (@carolimeschaper) May 26, 2015
Like most of Letterman's former staff, Schaper appears to be currently unemployed and waiting for someone to reward her uncanny skill of writing one-liners for celebrities.
Watch the full bit below, via CBS:
[Photo via screengrab]
— —
>> Follow Matt Wilstein (@TheMattWilstein) on Twitter
Have a tip we should know? tips@mediaite.com