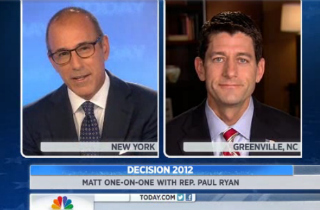 Appearing on the Today Show Tuesday morning, Republican vice presidential candidate Paul Ryan attempted to defend the accuracy of his RNC speech from last week in a tough interview with host Matt Lauer.
"There are some people saying you played a little fast and loose with the truth on certain key elements," Lauer said at the outset. "I'm not just talking about Democratic analysts, but independent fact-checkers. Would you concede while many of the things you said were effective, some were not completely accurate?"
"No, not in the least actually," Ryan said bluntly. He went on to explain that while people believe he was suggesting President Barack Obama is responsible for a plant shut-down in Janesville, Wisc., "if you read the speech" you'd see he was actually saying that "the president ought to be held accountable for broken promises … after the plant was shut down, he said he would lead efforts to re-tool the plant. It's still idle."
Lauer said he did, indeed, read the speech, and challenged Ryan further: "In my opinion, it seemed like you were unmistakably trying to link the president's promise with the closing of that plant, which you know closed before he became president."
"The promise was he was going to lead an effort to re-tool the plant so people would be open and go back to work and it would be open for another 100 years," Ryan reiterated. "The point is he filled people with hope traveling around the country running for president making grandiose statements and promises which are not true."
– RELATED: CNN's John Berman Fact-Checks Ryan's RNC Speech As Fehrnstrom Defends It
Lauer then moved on to the part of Ryan's speech in which the VP candidate criticized the president for forming an independent "Simpson-Bowles Commission" on the budget and then ignoring the group's recommendations.
"You were one of seven members of that panel and you voted against sending its recommendations to the Senate," Lauer said, "basically killing any further action on them. Didn't you owe it to the people in that room to say that as well?"
"But if you read the next paragraph, I said Republicans offered alternatives," Ryan pushed back. "I didn't like that report because I don't think it solved the problem, I didn't think it fixed the problem of runaway entitlement spending. I authored and passed through the House an alternative…. [Y]ou owe the country the alternative, which is what we did, not what President Obama did. We're going to have a debt crisis and the president hasn't shown the leadership."
As a final challenge, Lauer asked the VP candidate about presidential candidate Mitt Romney's failure to mention the ongoing War in Afghanistan during his Thursday night RNC speech, adding that, "He's asking Americans to make him the next Commander-in-Chief. How can [he] not remember that war?"
Ryan then repeated what Romney advisers have said in defense of the omission: "The day before that speech, Mitt Romney went to the American Legion and gave a lengthy speech on the topic."
Watch below, via NBC:
— —
>> Follow Andrew Kirell (@AndrewKirell) on Twitter
Have a tip we should know? tips@mediaite.com