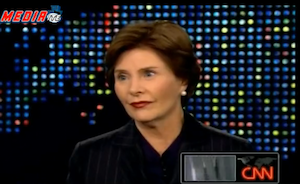 One of the best things about marriage (whoever it is between) is that the two partners are allowed to disagree sometimes. First Lady Laura Bush gave a perfect example last night while she was on Larry King Live to promote her new book. King began asking the former first lady about her views on gay marriage and abortion laws and it turns out that, on both topics, she disagrees with her husband as well as the majority of social conservatives in the country.
In her new book, Bush discusses how she asked her husband not to make gay marriage an important issue in the 2004 election. After mentioning those passages, King pressed Bush to clarify whether or not she supported the legalization of gay marriage and clarify she did.
"Well, I think that we ought to definitely look at it and debate it. I think there are a lot of people who have trouble coming to terms with that because they see marriage as traditionally being between a man and a woman. But I also know that when couples are committed to each other and love each other, that they ought to have, I think, the same sort of rights that everyone has."
For the record, that makes Laura Bush a stronger supporter of gay marriage than Barack Obama. However, the surprises from the interview didn't end there. After talking more about gay marriage, the discussion moved to abortion where Bush had an equally liberal viewpoint.
"I think it's important that it remain legal, because I think it's important for people for medical reasons and other reasons."
Afterwards, King asked Bush if the discussions she had with her husband on the two topics were argumentative. She said no because the former President understands her viewpoints and she understands his, which would imply that the conversations going on at the Bush family dinner table are more civil than 99% of those in the media on these subjects.
Clearly though, this interview showed promise for the future of the American marriage. If Laura and George can keep things going strong despite these inflammatory issues, then those fearing marriage's demise don't need to worry at all.
Have a tip we should know? tips@mediaite.com