Laura Ingraham And Dick Morris Fume Over 'Sell-Out' Republicans' Lame Duck Session Votes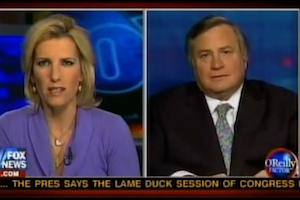 It may be beginning to look a whole lot like Christmas, but the holiday cheer was limited on today's O'Reilly Factor as host Laura Ingraham and Dick Morris decried the last of the bills passed during this month's lame duck congressional term– and especially the Republicans "selling out" and making legislation like the START Treaty pass.
Ingraham began the segment a little sheepish about her disillusion at the "disturbing signs of Republicans selling out," which she and, later, Morris elaborated on as being particularly "illegitimate" due to the fact that many of those in Congress would not be returning in January. As Morris explained, "this was a session in which 20% of Congressmen and Senators were defeated [in November]," and as such, he continued, voted for legislation that the people actively voted against. "None of that"– but especially the ratification of the START treaty and the lack of spending cuts in much of the legislation– "is what voters voted for on November 2nd," Ingraham railed.
As for what voters did vote for in November, Morris had a bone to pick with a list of Senators he believed had run as conservatives and turned their backs on the mandate they were given, namely Senators Snowe, Corker, Cochran, Isakson, Coburn, and Crapo, whose contact information he helpfully listed on his website. "Call a senator on Christmas," Ingraham encouraged. "We're making a list and we're checking it twice."
The segment from today's O'Reilly Factor via Fox News below:

Have a tip we should know? tips@mediaite.com