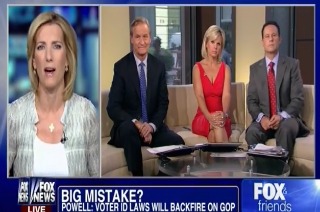 On Tuesday, the hosts of Fox & Friends tackled statements by Gen. Colin Powell who attacked state-level voter identification laws on Sunday saying that they were being perceived as discriminatory and would backfire on the politicians who support them. Conservative radio host Laura Ingraham agreed with Powell's warning that Democrats would use voter identification laws to scare their base voters into turning out for the midterm elections because Republicans seemingly cannot make a positive case for voter ID.

"These kinds of procedures that are being put into place, to slow the process down and make it likely that fewer Hispanics and African Americans might vote, are going to backfire, because these people are going to come out and do what they have to do in order to vote, and I encourage that," Powell said on CBS' Face the Nation on Sunday.
RELATED: Colin Powell Warns GOP: Voter ID Laws Will 'Backfire'
When asked why it was unreasonable for people to be required to have an identification card to vote, Ingraham said it was not but it suited a political objective for some to oppose voter ID.
"Because desperate people are to portray America as a horribly racist and discriminatory place where we can patronize — apparently we can patronize an entire class of people for political gain," Ingraham said.
Gretchen Carlson pressed Ingraham to respond to Powell's assertion that voter ID laws would backfire on their supporters. "Well, if Republicans can't make the argument, yeah," Ingraham replied.
She said the GOP should make the argument for a "pure vote," in which voter ID goes to ensure everyone – black, white, or Hispanic – has their vote counted once and is not cancelled out by a fraudulent vote. However, she said she is not hearing Republicans make that case.
Ingraham expressed her disappointment that Powell did not use his considerable stature to deflate some of the criticisms of voter identification from Democrats which she said are invalid.
Watch the clip below via Fox News Channel:
—
> >Follow Noah Rothman (@NoahCRothman) on Twitter
Have a tip we should know? tips@mediaite.com