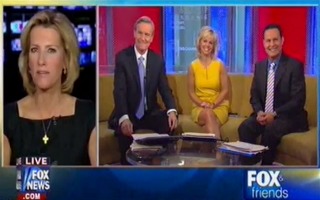 Conservative radio host Laura Ingraham appeared on Fox & Friends on Tuesday and, when asked about the President Barack Obama's initiatives to reduce the debt — like, say, the "Buffett" Rule that failed in the Senate on Monday night — Ingraham said that the President was proposing "immature and adolescent approaches" to solving the spending problem and that Former Massachusetts Gov. Mitt Romney "needs to be the adult in the room."
RELATED: Laura Ingraham On IRS Obamacare Implementation Funds: 'Even For President Obama, It's Really Kind of Low Rent'
Co-host Steve Doocy opened the segment by asking Ingraham to weigh in on the fact that President Obama has hosted several NASCAR drivers at the White House. "Is that because the President is a big lover of NSCAR where they really need to start driving hybrids, or is there something more cynical going on?" asked Doocy.
"It's an election year," Ingraham replied. "It doesn't really surprise me. I would be like me inviting [actress Susan] Sarandon over for tea."
Later in the interview, co-host Gretchen Carlson asked Ingraham about a recent report that showed the largest banks in America that were "too big to fail" in 2008, when the mortgage market collapsed had actually grown larger under President Obama's tenure despite his pledges to bring larger banks down to a more manageable size.
"The five biggest banks are bigger than they were ten years ago," said Ingraham. "And, when you look at their market capitalization, I believe the wealth that they control is in the multiple of trillions. I think it's 15 trillion of money that they control. If you're Barack Obama and you believe your record should count, you're grandstanding against 'too big to fail,' we should at least examine it and talk about it."
Ingraham wondered if the media would cover that story at all, and Doocy responded that Rep. Barney Frank, co-sponsor of the financial regulatory bill Dodd-Frank, came out yesterday and chastised the president for focusing on health care reform in 2009-2010 and not financial reform.
"In the end, Doocy, isn't Barney Frank pretty much always right," Ingraham asked jovially. "Hindsight is 20/20. So you can say now that the whole thing's gone down the tubes, 'ah, I told you we shouldn't have done this.' I don't recall Barney Frank or John Tester in the Senate or all these sort of middle-of-the-road Democrats in the Senate – all of them had a chance to stand up against Obamacare, none of them did."
The discussion turned to the Buffet Rule, which was voted down in the Senate on Monday night, and the recent scandal involving General Services Administration officials misusing taxpayer dollars to host lavish conferences in major tourist destinations.
Carlson asked if Ingraham believed that this scandal could help the Republican party make a case for lower taxes since so much of that money is wasted on scandals like these, but she also asked if "Mitt Romney should get on the bandwagon of talking about tax reform."
"I think he can talk about tax simplification and making it easier for every person to pay taxes and for everyone to have skin in the game," said Ingraham. "Mitt Romney cannot be sucked into a defensive posture on the issue of taxes. These are immature and adolescent approaches to devastatingly serious problems facing this country. Obama is not a serious man facing these issues. He is a perpetual campaigner."
"Romney needs to be the adult in the room," Ingraham continued. "Lose the blue jeans. Lose the 'I'm a regular guy' thing; he's not a regular guy. He's really rich, and he should try to help other people become really rich too."
Watch the segment below via Fox News Channel:
Have a tip we should know? tips@mediaite.com