Laura Ingraham Can't Tell Former Bush Speechwriter Michael Gerson From Former DNC Chair Howard Dean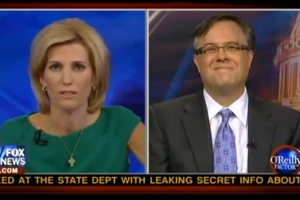 Former Bush speechwriter and Washington Post columnist Michael Gerson is a bit wary of the Tea Party movement, to say the least, but still considers himself a conservative. Defending his position to an increasingly incredulous Laura Ingraham on The O'Reilly Factor last night, however, he found himself fighting comparisons to DNC chair Howard Dean, the progressive website MoveOn.org, and a certain allegedly left-of-center cable network.
Ingraham, who was filling in for Bill O'Reilly, questioned Gerson's assertion in his column this week that certain small-government tendencies within the Tea Party movement were "inconsistent with religious teachings" and that their ideas dangerously noninclusive for the Republican Party. Citing several big-government Bush administration policies, Ingraham challenged Gerson to explain how the alternative would be any better: "big government conservatism was tried and it failed… you guys gave it the old college try and it failed." Gerson made one point that Ingraham agreed with, that campaign platforms "can't just be simplistic anti-government agenda" the way many Tea Party rally agendas are.
While he refused to defend the concept of "big government conservatism," he warned that "Hispanics will not support the Republican Party if they feel they are a target of prejudice," and that the Tea Party attitude towards immigration was promoting that. This set off Ingraham, who countered that one of the reasons Hispanics may feel they are targets of prejudice is because of "the ridiculous things that people like you say about the Tea Party." Gerson pointed to culprits on the right in retort: "It's Tom Tancredo and JD Hayworth that say ridiculous things!" To the continued mentions of Tancredo and Hayworth and, later, shots at Nevada Republican Senate candidate Sharron Angle, Ingraham compared Gerson to the aforementioned Dean and wondered if she was talking to the website MoveOn.org instead of Gerson.
The heated debate via Fox News below:

Have a tip we should know? tips@mediaite.com