Laura Ingraham: Celebrities Praised For Talking Politics, But GOP Surgeon Scolded For Talking Health Care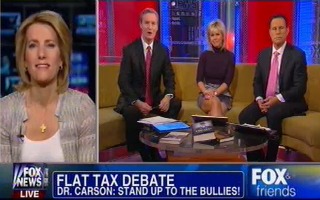 On Tuesday, conservative radio host Laura Ingraham joined Fox & Friends where she highlighted the hypocrisy she saw in the public reaction to Dr. Benjamin Carson's address to the National Prayer Breakfast. Ingraham said that celebrities are often lauded for taking public stands on issues that they may know little about, while a celebrated neurosurgeon offers his thoughts on health care and tax reform and is chided for inappropriateness.

RELATED: Dr. Ben Carson Takes To Fox To Address His Critics, Blast ObamaCare, And 'Stand Up To The Bullies'
The Fox hosts played a clip of Carson on Neil Cavuto's program on Monday where he defended his actions at the prayer breakfast. Carson said that someone has to "stand up to the bullies."
"We can have celebrates talk about fracking and all sorts of political issues, but we actually have the head of neurosurgery – pediatric neurosurgery at one of the top hospitals in the world – who gets up on that stage at the National Payer Breakfast, and he addresses a number of topics, right? But from a common sense, very respectful fashion," Ingraham began.
"He wasn't mean-spirited. He wasn't nasty," Ingraham continued. "But the reaction was so profound from the public, thinking 'why don't we have politicians who speak in these common sense terms?'"
"What he said about everything – the way we administer health care. What he said about the way we see government fail to address the needs of the people,' Ingraham added.
"And look for excuses," Brian Kilmeade interjected. Ingraham agreed, saying that Caron's upbringing with a single mother, who refused to allow him to take comfort in the excuse that his impoverished background provided him, was integral to Carson's present success.
Watch the clip below via Fox News Channel:
> >Follow Noah Rothman (@NoahCRothman) on Twitter
Have a tip we should know? [email protected]