Laura Ingraham Clashes With Gay Rights Advocate Over Chick-Fil-A On O'Reilly Factor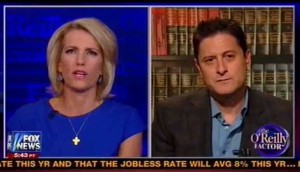 On The O'Reilly Factor, Laura Ingraham grilled gay rights advocate Wayne Besen over the nationwide pushback against Chick-fil-A resulting from president Dan Cathy affirming that the franchise supports "traditional marriage." Besen said that Chick-fil-A has gone beyond merely taking a position in giving money to anti-gay organizations, while Ingraham argued that the company has every right to do so and individuals have the right not to enter its establishments.
RELATED: Liberal And Conservative Fox News Guests Agree: Cities Shouldn't Ban Chick-fil-A For Marriage Views
Ingraham noted how several public officials have rather vocally spoken out against Chick-Fil-A, and asked Besen what he thinks about attempts to ban the fast food chain in certain cities. Besen found it "hypocritical" that the chain is not happy with the proposed bans, because one of the religious groups Chick-fil-A gives money to has said the government has a "moral duty to legislate morality."
Several Chick-fil-A owners have independently spoken out, saying they personally employ and welcome gay people into their establishments, and Ingraham told Besen the attempts to ban Chick-fil-A from certain cities creates an unfair "litmus test." She said that personally, she would not patronize certain stores in Burlington, but would not "ostracize" them for having disagreements with her. Besen shot back by saying that the real ostracism comes from attempts all over the country to ban gay marriage, aided by money given to anti-gay groups from places like Chick-fil-A.
Ingraham asked Besen if he thought religious, anti-gay individuals who run businesses should all have to retreat from public life. Besen said that when public individuals say "bigoted things," people are going to have a strong response.
Watch the video below, courtesy of Fox News:
Have a tip we should know? tips@mediaite.com
Josh Feldman - Senior Editor