Laura Ingraham Equates Obama's Obedient Media With Domestic Abuse Victims, Prostitutes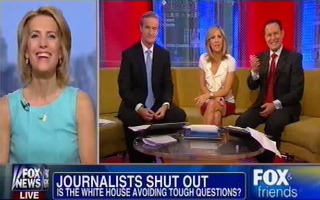 During Tuesday morning's Fox & Friends, Conservative radio host Laura Ingraham compared the political press covering President Barack Obama to prostitutes and victims of domestic abuse. When discussing a recent meeting in which the press was politely told to leave the room so Obama could take questions from the nation's governors and they obliged, Ingraham said that this behavior from the media is a symptom of "battered press syndrome."

RELATED: Laura Ingraham: Celebrities Praised For Talking Politics, But GOP Surgeon Scolded For Talking Health Care
After playing a clip of the president requesting the press evacuate the room ahead of a question and answer session, Ingraham laughed at the comical lack of transparency the president has adopted.
"It's like the battered press syndrome," Ingraham said. "You have to shake them from this and say, 'you guys have been used, and played, and manipulated,' and are you not now going to stand up for yourselves and say, 'you know what Mr. President, we're just not going to cover you anymore.'"
"Until you treat us like real professionals and reporters, that's what we're supposed to be, we're just not going to play this little game," Ingraham suggested. "This has been happening for years."
"It's embarrassing," Ingraham added. "He's used them. It's like the one-night stand that lasted for four years."
"He got reelected, he got what he wanted, so, 'sweetheart, I'll leave your payment on the table and I'm gone," she concluded.
Watch the clip below via Fox News Channel:
> >Follow Noah Rothman (@NoahCRothman) on Twitter
Have a tip we should know? tips@mediaite.com