Laura Ingraham, Fox Hosts Blast Hispanic Groups For Staying Silent During Zimmerman Trial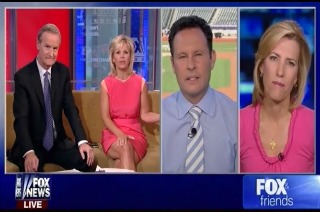 On Monday, the hosts of Fox & Friends asked conservative radio host Laura Ingraham for her impressions of the jury's decision to acquit George Zimmerman of all charges relating to the killing of Trayvon Martin. Ingraham and the hosts blasted Hispanic advocacy groups for deciding to remain silent for the course of the trial.

The Fox hosts reported that, after Attorney General Eric Holder gave a speech on the verdict in the case and demanded that justice be done, he held an organizational call with the Department of Justice's Civil Rights Division to determine if they could bring civil rights charges against Zimmerman.
RELATED: Race Relations In America Improving Every Year, And The Media Hates It
They added that the DOJ had asked for public assistance and for tips that could lead to a civil rights indictment against Zimmerman.
"Where is La Raza on all of this?" Ingraham demanded. "Where are any of the Hispanic organizations that they all come out to push for amnesty or to attack voter ID laws — we'll talk about in a moment –where are they? Where is Univision?"
"They said, 'We went out of our way to not bring up our Hispanic heritage. we saw the black verse white situation — we didn't want to factor in Hispanics,'" Brian Kilmeade interjected. "I'm thinking, why not? That could get people to focus on the case and not the color of people's skin."
Watch the clip below via Fox News Channel:
> >Follow Noah Rothman (@NoahCRothman) on Twitter
Have a tip we should know? tips@mediaite.com