Laura Ingraham: 'Heartbreaking' Watching Disabled Vet Get Intrusive TSA Pat-Down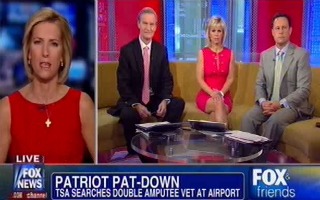 Conservative radio host Laura Ingraham appeared on Fox & Friends on Tuesday to relate a disturbing scene she witnessed over the weekend. While preparing to travel in an airport, she witnessed a disabled veteran receiving an intrusive pat-down from Transportation Safety Administration agents. "I think we need to treat these men and women differently at TSA," said Ingraham. "We need to give them a fast pass through the system and not as the Homeland Security Department said a few years ago, brand them as potential threats to the United States."

RELATED: Geraldo On TSA: 'I Got Manually Raped By A Guy,' '[He] Was Getting Off On It.'
Co-host Steve Doocy opened the interview with Ingraham by noting that former Secretary of State Henry Kissinger was subject to an intrusive TSA pat-down recently. Ingraham went on to describe a disturbing inspection that she witnessed a TSA agent give a returning veteran of the Afghanistan war.
Ingraham described her children alerting her to a paraplegic veteran with scars on his arms, suggesting to her that he had been wounded. "He was going through a screening," said Ingraham. "He obviously couldn't go through the x-ray machine because he can't get out of his chair. They brought him through to the secondary screening area, but it was for everybody to see."
It didn't look like any one from TSA was being rude to him, or mean to him or surly to him. But it just seemed to me very sad that they're lifting him up on each side to move him – I guess – to look under his torso to see if there is anything there. They actually took something out of his luggage. And I believe they took it from him – I don't know what it was, it looked like a long, wooden artifact of some sort. And it looked like they were taking it from him. He had a smile on his face – I don't know if he had a traumatic brain injury. He might have. But his family is looking at him there; they're waiting for him in that photo, and I was going to take a photo of him as he was being screened but I was afraid I was going to be arrested at that point.
"Something seems to be wrong here," Ingraham continued. "These men should get red carpet treatment at TSA. To me, it seems like that shouldn't be something we see."
Ingraham said that her child even mentioned the sordid appearance of the affair. "I know they have to screen everybody, but something in this situation that I saw just hit me in the gut and I thought about that soldier all weekend long."
Co-host Brian Kilmeade said that perhaps the TSA should look into a special process of screening for uniformed military personnel. "He'd clearly been through so much," said Ingraham. 'I just had to share it with people."
Ingraham said that the TSA had not heard any complaints about this particular incident, but noted that the subject of the pat-down was not going to complain because he had "dignity and grace about him."
"I think we need to treat these men and women differently at TSA," said Ingraham. "We need to give them a fast pass through the system and not as the Homeland Security Department said a few years ago, brand them as potential threats to the United States – returning veterans. Remember that edict from Janet Napolitano."
"It was heartbreaking," said Ingraham. "When a child notices it, you know there's something wrong."
Watch the segment below via Fox News Channel:
Have a tip we should know? tips@mediaite.com