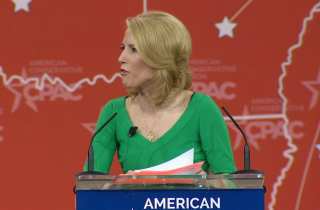 Conservative radio host Laura Ingraham pulled no punches during her remarks before the 2015 Conservative Political Action Conference (CPAC) on Friday, railing against shadowy "elites" who have often failed the Republican Party, and taking shots at the possibility of a Jeb Bush presidential run.
"I know Jeb Bush is about to speak," she began, before asking, "but, how many of you are skeptical of another Bush term?" When the crowd gave a surprisingly loud cheer, she declared: "I think you have to look on the bright side: I think Jeb could really explode the gender gap."
Of course, this was a setup for a joke at Bush's expense. "I think women could actually turn out in droves for Jeb Bush. I mean, what woman doesn't like a man who gives her a blank check at Tiffany's? 'Diamonds are a girl's best friend'? That would be a great theme song for Jeb Bush."
Ingraham further railed against Bush with the following suggestion: "We could dispense with this whole nomination process altogether — why don't we call it quits and Jeb and Hillary can run on the same ticket?" The crowd applauded once more.
"Go through the list of things they agree on," she said. "Common Core, amnesty, giving Obama fast-track trade authority, the surveillance culture." Ingraham suggested a bumper sticker slogan for the hypothetical ticket: "Clush 2016: What Difference Does It Make?" referencing then-Secretary of State Hillary Clinton's infamous remarks before Congress.
"I'm tired of the airbrushed talking points, the backroom deals," she later said, launching into a rant against "elites" who "fail and fail and fail" to reflect the American people's voice on a variety of issues. "The media and much of the donor class is hostile to conservatism," she said — at one point openly expressing hostility for how "10 wealthy families" could end up picking a Republican candidate.
Watch the full speech below, via NBC News:
— —
>> Follow Andrew Kirell (@AndrewKirell) on Twitter
Have a tip we should know? tips@mediaite.com