Laura Ingraham Mocks Democratic Rhetoric: Will Soon Accuse GOP of 'Kidnapping and Rape'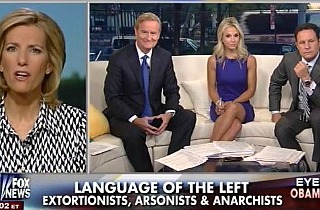 On Tuesday, conservative radio host Laura Ingraham appeared on Fox & Friends to weigh in on Sen. Ted Cruz's (R-TX) ongoing effort to force through a continuing resolution that would defund the Affordable Care Act. She mocked the rhetoric employed by Washington's Democrats, who are consistently equating the Republicans actions in Congress with violent crimes.

The Fox hosts began by playing a montage of Democratic leaders in Washington using terms like "anarchists" and "legislative arsonists" to describe Congressional Republicans.
"Extortion, arson, anarchy—they don't have kidnapping and rape, but I'm sure that will be on the list soon when they refer to what the Republicans tried to do on Obamacare," Ingraham said.
"They can use all of the inflammatory crime rhetoric that they're using, but it's not going to change the fact that people don't like this law," she continued.
RELATED: Ted Cruz Reacts to Republicans Feeding Fox's Chris Wallace Info on Him
Turning to Cruz's effort to defund the ACA through a continuing resolution, Ingraham said that it was necessary to take this course because "elites" in Washington do not listen to the public. She did say, however, that she was conflicted about the correctness of his strategy.
She said that she supports Cruz's motives but is wary of the prospect of giving Democrats a propaganda victory with an unpopular defunding effort leading to an even more unpopular government shutdown.
"The ultimate prize here, which I think a lot of conservatives forget about, is 2014 and 2016," Ingraham added. "The only way you're really going to get rid of so much of the scourge of bad governance is to get people in place who are far more common sense and realize that, you know, we're leveraging our children's future to the hilt here."
Watch the clip below via Fox News Channel:
[Photo via screengrab ]
— —
> >Follow Noah Rothman (@NoahCRothman) on Twitter
Have a tip we should know? tips@mediaite.com