Laura Ingraham: Obama's 'Phony' Economic Recovery Will Lead Democrats To 'Drubbing' In 2014, 2016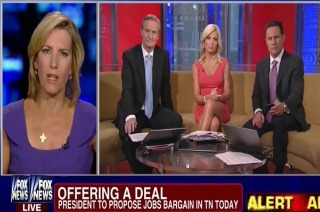 In spite of President Barack Obama's announcement today that he would pursue a "grand bargain" with Congressional Republicans – reducing corporate tax rates in exchange for agreements on new spending proposals – conservative radio host Laura Ingraham told the hosts of Fox & Friends that the president has largely ignored the economy over the last five years. She said that it was possible that Obama's misplaced priorities could lead to a "drubbing" in the next two election cycles for Democratic politicians.

The Fox hosts began by asking Ingraham for her thoughts on Obama's "grand bargain" proposal. Ingraham said that any new spending proposals are not likely to go anywhere in the Republican-dominated house.
Furthermore, she said that Obama's proposal does not address the problems still holding back the economic recovery. "The fact of the matter is, this recovery has been a phony recovery," Ingraham said. "Corporate earnings — the ratio of corporate profits to earnings — is actually not bad: 15, 16 right now is the ratio. But most middle income earners are seeing either wagers stagnate or wages go down."
RELATED: Obama Decries 'Phony Scandals' That 'Distract' From Economic Action: 'This Needs To Stop'
Ingraham said that the president is ignoring this jobless economy and is instead scheduled to hold speeches addressing his "pet issues," including stricter gun ownership laws, immigration reform, and climate change. The conservative radio host said that the voters may punish Obama and his political party for his misplaced priorities in the coming election cycles.
"I think they're in for a potential drubbing in the midterms and, perhaps, even a shock in the next presidential election," Ingraham said of the Democratic Party. "In the end, people need to know that their country and their government is working for them. Not just on the issues that frankly motivate a Thursday night seminar at Harvard University."
Watch the clip below via Fox News Channel:
> >Follow Noah Rothman (@NoahCRothman) on Twitter
Have a tip we should know? tips@mediaite.com