Laura Ingraham On IRS Obamacare Implementation Funds: 'Even For President Obama, It's Really Kind of Low Rent'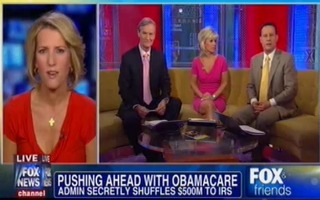 Radio host Laura Ingraham appeared on Fox & Friends to promote her appearance as fill-in host for Bill O'Reilly Tuesday night and was asked about the Obama administration directing funds to the Internal Revenue Service to begin preparations to administer the implementation of the Affordable Care Act. Ingraham said that she believed, "even for a Democrat, even for President Obama, it's really kind of low rent."
RELATED: Brit Hume To Laura Ingraham: 'Harsh Criticism' Of Romney's Mormonism May Help Him
Ingraham was asked to weigh in on the Obama administration's directing $500 million to the IRS to begin preparations for the implementation of the Affordable Care Act, despite indications that the Supreme Court may invalidate all or parts of the law before it can be fully implemented.
"I should say, it's really – even for an election year, even for a Democrat, even for President Obama – it's really kind of low rent, right," said Ingraham. "It looks like the Supreme Court is going to overturn this. It's injudicious, at the very least."
"It's even more than just putting the money over to the IRS," said Gretchen Carlson. "It's that it's kind of an end-around around Congress. I mean, hasn't Congress stated that they really are to put a hold on spending any money on Obamacare until we find out what Supreme Court says?"
Ingraham told Carlson that she felt this maneuver by the president is similar to other political moves he has made in the past on a host of other issues. "I think Barack Obama thinks, 'look, I'm president right now and I'm going to use the full force of this office—and stop me. Try to stop me from doing this.' I think it's a dare," said Ingraham.
Watch the segment below via Fox News Channel:
Have a tip we should know? tips@mediaite.com