Ingraham On Tea Party's Bump In Polls: No 'Stupid Comments' About 'Women And Abortion,' Please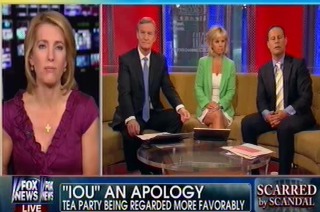 Conservative radio host Laura Ingraham appeared on Fox & Friends on Tuesday where she weighed in on new public opinion polling which shows a surge in popularity for the limited government advocacy movement in the wake of the news that some Tea Party groups had been targeted by the IRS. Ingraham advised the Tea Party to use this period to revamp its messaging and not to make "stupid comments" like those that some insurgent candidates made in the 2012 election cycle.

Gretchen Carlson noted that recent public opinion polling has shown that the Tea Party's image has improved in the wake of the IRS targeting scandal. "Remember when we were talking about, 'oh, the Tea Party, you know it's really lost its surge in the last couple years,'" Carlson said. "Is that because nobody could ever become a Tea Party group?"
"People have an innate sense of fairness," Ingraham replied. "It's not left-right on this. It's right-wrong."
RELATED: Alan Colmes And James Pinkerton Explode: Why Are Soros-Funded Liberal Media Outlets Defending The IRS?
"The White House is big into anti-bullying except when it comes to conservative groups," she added. "I think it strikes people as deeply unfair, deeply unjust, so it doesn't surprise me that the Tea Party is seeing some upsurge in its popularity and in its donations."
Ingraham warned Tea Partiers to not succumb to a "victim mentality," and to use this moment to revamp its messaging and its policy proposals. "You can't have people making stupid comments about, you know, women and abortion," Ingraham said.
Watch the clip below via Fox News Channel:
> >Follow Noah Rothman (@NoahCRothman) on Twitter
Have a tip we should know? tips@mediaite.com