Laura Ingraham To Bob Costas: 'You Don't Know That Much About What You're Talking About'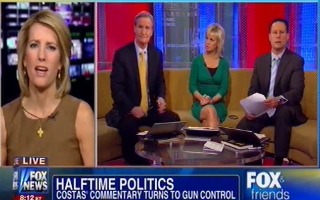 Conservative radio host Laura Ingraham joined the hosts of Fox & Friends to offer her take on NBC Sports announcer Bob Costas taking the opportunity of an NFL broadcast to advocate for stricter gun control measures in the wake of the murder/suicide of NFL player Jovan Belcher. Ingraham warned Costas that he doesn't know what he's talking about and said that he should focus on ensuring that sports remains one of the last "politics-free" zones.

RELATED: Bob Costas Decries Gun Culture During Sunday Night Football Halftime, Pro-Gun Twitter Backlash Ensues
"What's being lost in the shuffle in this discussion is domestic violence," said Gretchen Carlson of the public debate over gun violence following the Belcher's murder/suicide.
"I guess Costas doesn't think Belcher is strong enough to asphyxiate his girlfriend, or smart enough to hook up a hose into his garage and kill her through asphyxiation by carbon monoxide," Ingraham replied. "So, he must have an enormous amount of information that the rest of us don't have."
"It's the typical, liberal, kneejerk response to a tragedy. That it is – imagine if he had got up there and said, 'Well, this just shows you that you shouldn't be cohabitating with people who aren't your spouses and you shouldn't have kids out of wedlock.' What if he'd said that," Ingraham asked hypothetically.
Steve Doocy said that the cities with the strongest gun control laws have significant violent crime rates, leading him to question if gun control laws were effective at deterring crimes like Belcher's.
"The analysis is so facile, it's so glib," Ingraham added. "He's a very talented guy, but he wants to be seen as very serious on every subject. And I would suggest to Mr. Costas, you don't know that much about what you're talking about."
Watch the clip below via Fox News Channel:
> >Follow Noah Rothman (@Noah_C_Rothman) on Twitter
Have a tip we should know? tips@mediaite.com