Laura Ingraham To O'Reilly: 'No One More Surprised By Cain's Success Than Cain Himself'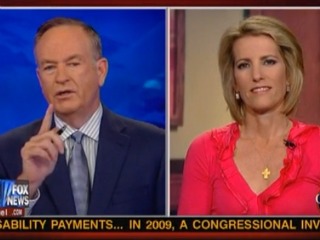 On The Factor Thursday, Bill O'Reilly took a look at Herman Cain's success, observing that the seasoned businessman has "taken supporters directly from Michele Bachmann and Gov. Rick Perry." This is particularly unexpected given the fact that, according to a recent New York Times piece, Cain has a grand total of six paid staff members working in Iowa and New Hampshire combined.
O'Reilly also took a look at how Cain was faring in on a state-by-state level, noting that, for example, he was polling at only 13 percent in New Hampshire according to a new CNN/Time magazine poll, far behind Mitt Romney's 40 percent. But Cain, O'Reilly noted, has a secret weapon… none other than Rick Perry. Perry, you see, has been steadily trying to undermine Cain's big rival Romney, specifically by pointing out his tendency to "change his mind" on certain issues.
RELATED: James Carville: Rick Perry Is 'In Over His Head' And 'Incapable Of Running For President'
To discuss this further, O'Reilly brought on author and radio host Laura Ingraham. Ingraham noted that the aforementioned Time article — relying on mostly anonymous sources — indicated that Cain's campaign was in trouble because it appears to be understaffed and disorganized. But "pretty much every campaign," she said, "is going to encounter stories like this" because there will be always be a disgruntled staffer somewhere who wants to come forward and air his or her gripes to the media.
Interestingly, Ingraham theorized that no one is more surprised by Cain's meteoric rise in the polls than Cain himself. O'Reilly didn't seem to totally buy that as a reason for Cain's staff's small numbers and apparent lack of preparedness, noting that any candidate experiencing a rise like Cain's will make sure he or she has enough staffers to lead an effective and organized campaign.
Watch the segment, from Fox News:
Have a tip we should know? tips@mediaite.com