Laura Ingraham Trashes Colin Powell: 'Liberalism Has Been An Utter Disaster For Black America'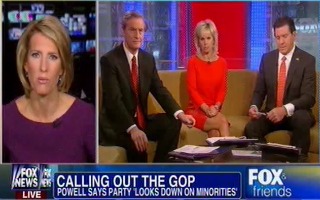 Conservative radio host Laura Ingraham joined the hosts of Fox & Friends on Tuesday where she countered the argument made by Gen. Colin Powell on Meet the Press over the weekend where he claimed that the Republican Party looks down on minorities. Ingraham outlined the ways in which the GOP has advanced the careers of many prominent African-Americans, Powell included, and spelled out how liberalism has historically "been an utter disaster" for African-Americans.

RELATED: Colin Powell Accuses GOP Of Racism: They 'Still Look Down On Minorities'
Steve Doocy asked how the GOP, which has advanced the careers of people like Mia Love, Allen West and Gov. Susana Martinez (R-NM), could be as racist as Powell contends.
Ingraham said that Powell is frustrated with the Republican Party over his role in pushing the war in Iraq. She said that he is still bitter after testifying before Congress regarding weapons of mass destruction that turned out not to be in Iraq.
"It seems that Colin Powell is trying to continue to expiate for his sins of that testimony," Ingraham said. "He worked for Republican presidents and, presumably, those Republican presidents don't have the view that the Republican Party is riddled with racism and has a 'dark vein of intolerance.'"
Gretchen Carlson, playing "devil's advocate," said that even Gov. Bobby Jindal (R-LA) has asked the GOP to do some introspection on how they relate to minorities.
Ingraham agreed, saying that the party has not done an effective job of selling "the wonder" of free markets, economic liberty and conservative social values. She said that liberalism has been a failure for blacks in America in particular.
"I would challenge Colin Powell, frankly, to a debate on whether liberalism – climate change regulation he wants, I guess more affirmative action, he's pro-choice, and now he believes that immigration amnesty is going to help, I guess, what? The wages of the black family?," Ingraham asked.
"Liberalism has been an utter disaster for black America," Ingraham said. "The weapon of mass destruction, Gretchen, has been found. The Democrats found it. It's Colin Powell. He's blowing up on Republicans."
Watch the clip below via Fox News Channel:
> >Follow Noah Rothman (@Noah_C_Rothman) on Twitter
Have a tip we should know? tips@mediaite.com