Laura Ingraham: University Offering Cheap Credits To Illegal Aliens Penalizes Law Abiding Citizens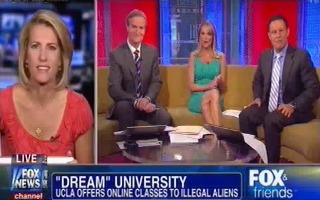 Conservative radio host Laura Ingraham appeared on Fox & Friends on Monday where she offered a sharp rebuke of University of California Los Angeles' new "Dream" University program which offers discounted credits to illegal aliens who attend college. Ingraham wondered why the University was imposing a penalty on those who obey the law and thought this and similar programs create an incentive to "Balkanize" the country.

RELATED: Laura Ingraham Clashes With Gay Rights Advocate Over Chick-Fil-A On O'Reilly FactorM
Fill-in host Juliet Huddy described the online program by the UCLA "Dream" University program which is being offered students who are both legal citizens and illegal. However, Huddy said that illegal alien students can take 18 course credits for $2,400 while a documented citizen would have to pay $6,642 for those same 18 credits.
"There's now a penalty in place for actually playing by the rules," said Ingraham. "You could look at it that way, right?"
She went on to say that offering a discount for illegal aliens to get a college education over legal citizens is a "perverted way of doing things."
"We thought that immigration was supposed to be assimilating people," Ingraham continued. "The idea that no we're going to further Balkanize the public … my only question remains: are we going to have a different grading curve for those who are illegally in the United States?"
"We are creating a system in this country where people have an incentive to separate – to separate and to hyphenate themselves," Ingraham concluded.
Watch the segment below via Fox News Channel:
> >Follow Noah Rothman (@Noah_C_Rothman) on Twitter
Have a tip we should know? tips@mediaite.com