Laura Ingraham: Univision Forum Showed Debates Will Put 'Obama In The Hot Seat Like Never Before'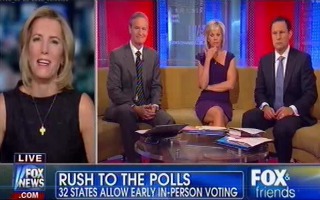 Conservative radio host Laura Ingraham railed against the practice of early voting on Tuesday's Fox & Friends. She said that she was mistrustful of the practice and suggested that supporters of President Barack Obama were attempting to push early voting in order to cement his early lead in the polls and avoid the impact of a drop in public support after the debates. She said that, given the president's performance at the Univision forum last week, the debates are likely to be unfavorable for Obama's electoral prospects.

Brian Kilmeade said that he thinks President Obama may have been surprised by the tough questions he received during last week's Univision forum. "If the president repeats that performance October 3, I think he's going to be in a lot of trouble against Mitt Romney."
"That was one of the most surprising interviews I've seen Obama give ever," Ingraham replied. She recalled how Univision reporter Jorge Ramos hammered Obama for breaking his promise to push forward with a comprehensive immigration plan. "Obama does not like to be pressed on issues, and he generally is not."
Ingraham said that the Obama campaign wants as many early voters as possible in order to hedge against a bad debate performance. "I don't like this early voting," said Ingraham. "I never have."
Gretchen Carlson asked if early voters consisted primarily of base supporters or if true independents and swing voters cast early ballots.
"We have to ask why we're pushing this early voting," said Ingraham. "I thought our civic duty was supposed to be on Election Day – with exigent circumstances for the military, the disabled, other people who just simply cannot get to the polls. Now, it's kind of just this rolling voting process when this thing is not over yet."
"People are declaring this election over and I think for a reason," said Ingraham. "Their guy could be in a lot of trouble." Ingraham said that GOP ground game and outreach is strong and the next month could be pivotal. She chided voters for casting their ballot early without seeing how each candidate performs in the debates.
"I think you're going to see president Obama in the hot seat like he's never been before in these debates," Ingraham concluded.
Watch the segment below via Fox News Channel:
> >Follow Noah Rothman (@Noah_C_Rothman) on Twitter
Have a tip we should know? tips@mediaite.com