Laura Ingraham: Win Or Lose, Media Will Declare Obama Winner Of Tonight's Debate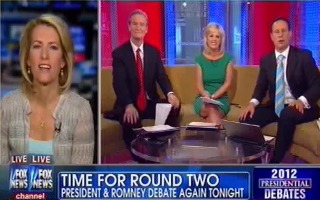 Conservative radio host Laura Ingraham told the hosts of Fox & Friends on Tuesday that Republicans should prepare themselves for a less decisive win tonight in the second presidential debate than Mitt Romney had against Barack Obama in the first debate. She said that, regardless of how well Romney performs, the bar is low enough for the president after the first debate that the media will declare him the victor in tonight's contest.
RELATED: Both Campaigns Concerned Over Candy Crowley As Debate Moderator
"I think that, because it was so bad for him in the first debate, I don't think the bar is honestly that high for him," Ingraham said of Obama's prospects for tonight's town hall debate. "I think he's actually going to get good reviews from his pals in the media if he does a decent job in the debate tonight."
Steve Doocy agreed with that assessment. "The mainstream media can't let Obama lose two in a row so regardless of what happens tonight, the headline tomorrow would probably be 'Barack Obama, comeback kid,'" Doocy said.
Gretchen Carlson disagreed sharply, saying that she was shocked the media declared Obama the loser in the first debate to begin with. "I was shocked at the headlines after the first debate," said Carlson.
"But they had to," Ingraham replied.
"I don't think it's an automatic," said Carlson. "There's much discussion about media bias, but I think we need to wait and see what's going to happen tonight."
Watch the clip below via Fox News Channel:
> >Follow Noah Rothman (@Noah_C_Rothman) on Twitter
Have a tip we should know? tips@mediaite.com