Laura Ingraham: 'Wobbly' GOP Can 'Look Forward To A 2014 Wipeout' If They Raise Taxes Without Cuts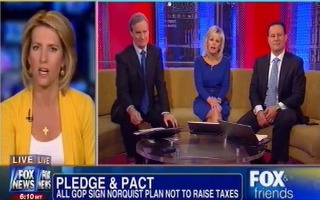 On Tuesday, Laura Ingraham lashed out at Congressional Republicans who have indicated publically that they would be willing to waiver on their pledge to not raise taxes in the wake of President Barack Obama's reelection. Ingraham warned that Congressional Republicans need to get concessions from their Democratic colleagues or face a devastating midterm election cycle in 2014.

RELATED: Chuck Todd On Fiscal Cliff 'Sideshow': 'Senate Is 100 Elected Pundits Right Now'
Steve Doocy asked Ingraham about a White House memo that claimed Republican lawmakers should cut a deal on the fiscal cliff or they may ruin Christmas for most Americans. Ingraham said that this type of baseless, White House-led hysteria was reminiscent of the debate leading up to the passage of the health care reform law and the stimulus package.
"Here is my question for all these wobbly Republicans and Democrats who tell us the sky is falling: where have they been for the last two years," Ingraham asked. "I'm so tired of Obama putting a gun to the head of the American people, and Republicans saying 'oh, what are we going to do?'"
Ingraham chided President Obama for adopting a negotiating position with Republicans that looked more like campaigning, by bringing in CEOs and community leaders to pressure the House GOP into a deal rather than sitting down with them.
Gretchen Carlson asked if Ingraham was being too hard on Congressional Republicans, but Ingraham insisted that she was not. She said that Republicans were negotiating by giving away their principles first which she said is weak.
"Republican should look forward to a 2014 wipeout if they compromise without getting some real, verifiable cuts," Ingraham insisted.
Watch the clip below via Fox News Channel:
> >Follow Noah Rothman (@Noah_C_Rothman) on Twitter
Have a tip we should know? tips@mediaite.com