Laura Ingraham: You're Seeing 'Signs Of Life' In The GOP, 'People Are With Them Now'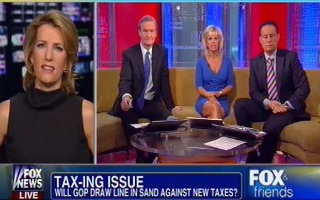 Conservative radio host Laura Ingraham thinks that the immediate concessions that the Republican Party had to make in the wake of their 2012 losses are complete. She told the hosts of Fox & Friends on Tuesday that, with tax hikes agreed to, it is time to focus on spending cuts. Ingraham said that she is seeing "signs of life" among Republicans in Congress and that the "people are with them" on the issue of spending cuts. If they have an effective PR strategy, Ingraham thinks the Republicans can outmaneuver the president on the issue of spending cuts.

RELATED: Laura Ingraham: 'Wobbly' GOP Can 'Look Forward To A 2014 Wipeout' If They Raise Taxes Without Cuts
Gretchen Carlson asked Ingraham where she stood on the deal that was cut to resolve the fiscal cliff, nothing that the Republicans had, after agreeing to tax rate increases, drawn a 'line in the sand' on new taxes. "We haven't even talked about the spending problem," Carlson observed.
Ingraham disagreed and replied that the Republican Party suffered a significant electoral defeat in 2012 which prevented them from having enough leverage to block tax hikes. However, she said that, with that immediate defeat behind them, the Republican Party is recovering quickly.
"Now, I think, you're seeing signs of life in the Republican Party," Ingraham said. She said the makings of a fight over spending cuts could speed a political comeback for the GOP.
"I think this is a great moment, potentially, for conservatives in the House and the Senate to say, 'look, this is a spending issue,'" Ingraham said. "I think people are with them now. They go their tax increase. Now, let's talk about the government bloat that is killing business in this country."
Brian Kilmeade said that the Democrats and President Barack Obama will try to attack Republicans for balking on eliminating tax deductions and loopholes when Mitt Romney ran on that premise in the 2012 election cycle.
Ingraham added that the GOP will have to contend with a president who mounting campaign-style rallies to demonize spending cuts and Republicans for not advocating a "balanced approach."
"They better have their ducks in a row and a PR strategy that can beat the razzel dazzel man, otherwise they're going to find themselves in a corner again on this issue," she concluded.
Watch the clip below via Fox News Channel:
> >Follow Noah Rothman (@Noah_C_Rothman) on Twitter
Have a tip we should know? tips@mediaite.com