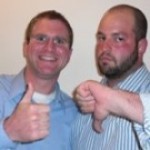 Who: Dick Wolf, Rene Balcer, S. Epatha Merkerson, Sam Waterston (Law & Order), moderated by Pat Mitchell
What: The Inside Media series' "Law & Order: Twenty Years and Counting"
Where: The Paley Center for Media
When: November 16, 2009
Thumbs: Up
There's no other show on television that draws both nursing moms at 3 a.m. and college students at 3 p.m. And that's something that the writers, producers and actors who make "Law & Order" consider when putting together scripts and shows. They revel in their series' universal appeal and mass audience.
The NBC show is celebrating its 20th season which executive producer Dick Wolf said "feels more like five or six." That's because not much has changed in the world in the past few decades — the show still bothers both sides when it has controversial episodes that deal with abortion, Wolf joked.
In some ways, though, a lot has changed over that period. Just ask Rene Balcer who acknowledged that storylines from the 90s no longer hold up as well because New York City grew out of the "crack war" the show sprouted inside. Balcer and his team do whatever they can to make the show's storylines feel real to viewers, famously ripping ideas from the headlines. It's the educational elements of the show that make Wolf proudest. Cast member S. Epatha Merkerson is particularly satisfied when an episode provokes thought and sparks debate among viewers after the show ends. The panel said they've done their job best if people throw their shoes at the TV as the credits roll.
In fact, because the show's issues are so heated, it's not uncommon to find actors arguing the merits and morals of scripts at read-throughs. Both Merkerson and Sam Waterston stated that one of the great perks of working for "Law & Order" as opposed to other series is that Wolf and Belcer give them authority to question their roles and lines. Wolf said that actor Steven Hill was the first actor he ever met who would routinely ask for fewer lines.
It's the creators and actors embracing of their roles as publicly perceived legal experts that make shooting the show so much fun for them. Waterston appears in jury duty video overviews; Wolf can talk about the difficulties that large, media-heavy trials have in finding jurors; and Merkerson is occasionally addressed as "Lieutenant" by strangers. Merkerson admitted that, despite playing the head of police for 16 years, she doesn't know anything about law. A woman near us, surprised, whispered to her friend, "She's got to know as much as we do."
What They Said
"I don't know many people involved in television who were thrilled to lose the 10:00 hour. No, I didn't ask for Friday at 8."
– Dick Wolf questions NBC's decision to have Jay Leno air five nights a week in primetime
"I have never done anything smart except by backing into it."
– Sam Waterston said he was at first resistant to the idea of having his character, Jack McCoy, take a promotion but eventually warmed up to the idea
"The show has to be available online so people don't have to get up to go see it."
– Does Rene Belcer only know people whose televisions have a crank to power them?
"Fred is a terrific guy and his politics are interesting."
– Dick Wolf chooses his words like a politician, when talking about actor and politician Fred Thompson
"What I've found is each person who came on, they came into a family. We all get along really well."
– S. Epatha Merkerson lists pretty much everyone she works with as the "person" she likes the most
What We Thought
Pat Mitchell ran this panel well. She tied together ideas, moved the discussion along, and motioned to play clips with perfect transitions that didn't interrupt or sidetrack the conversation. She was obviously prepared and seemed to be a veteran of these types of events.
Belcer said that the show has credited 6,000 actors over the show's 20 years on the air. Wolf joked that the evidence is in the playbills of every Broadway show. The two seemed happy they could reward so many talented actors with chances to show what they could do, even in small, insignificant parts.
Wolf wonders how cable shows can afford to make shows at the level they do. He said that the season two finale of "Mad Men" cost $1.6 million to make, which the networks would never sign off on.
PANEL RULES!
Some audience behavior seems to repeat itself panel after panel. We'll be updating a running list of "PANEL RULES!" that will help ensure that you are not the dweeb of the Panel Nerds.
Panel Nerds don't like… Look Unlikes
You think that Manhattan District Attorney Cyrus Vance, Jr. resembles the character of Jack McCoy. You even suggest that Vance got elected because the public agrees with this comparison. Unfortunately for you – and your question – Waterston doesn't see the resemblance. We're just happy you didn't tell Dick Wolf he looked like Nathan Lane.
Have a tip we should know? tips@mediaite.com