Lawrence O'Donnell Bashes The Daily Caller For Pushing 'Completely False' Menendez Prostitution Story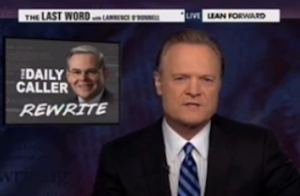 During his Rewrite segment Monday night, Lawrence O'Donnell took on the day's big development in the prostitution scandal surrounding Sen. Robert Menendez (R-NJ). Menendez was recently accused of paying for sex in the Dominican Republic, but now one of the women who had made the accusation has admitted that she was paid to read the claims from a script.
"You know how when a politician gets caught in a sex scandal and has a spokesperson put out a statement saying, 'we're not going to respond to a completely false accusation?'" O'Donnell asked. "Sometimes the accusation is completely false." O'Donnell went directly after conservative website The Daily Caller for allegedly fabricating the story and promoting five days before the 2012 election in a blatant effort to prevent Sen. Menendez from being re-elected.
After showing a large portion of the Daily Caller-produced video of the woman in question making the claims about Menendez, O'Donnell said that he and the majority of the mainstream media ignored the story up until now due to the "unorthodox" and "experimental" nature of the video. Now that it appears to have been faked by that organization, he clearly feels that reluctance to cover the story was justified.
O'Donnell admitted that there are genuine questions for the media to ask about the donor, Dr. Salomon Melgen, who had supposedly arranged the prostitutes for Menendez. "But tonight, none of the good questions that reporters should be trying to ask Senator Menendez involve hookers."
Watch video below, via MSNBC:
—
>> Follow Matt Wilstein (@TheMattWilstein) on Twitter
Have a tip we should know? tips@mediaite.com