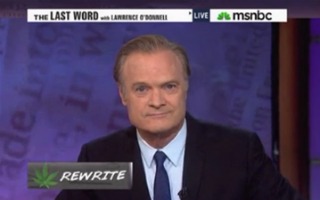 MSNBC's host of The Last Word, Lawrence O'Donnell, foresaw a change in America's drug policy in Barack Obama's second term on his "rewrite" segment on Monday night. O'Donnell identified a growing ideological overlap between members of both the political right and left in America and said that "possibly ending the war on drugs [is] the 204th reason to vote for President Obama on November 6th."

RELATED: Lawrence O'Pology: Lawrence O'Donnell Apologizes For Remarks About Mormonism
"Tonight, a President tries to rewrite a trillion dollar failed program that has produced murder and mayhem here and abroad for over forty years," O'Donnell began. O'Donnell showed images of comedian Bill Maher and conservative columnist George Will and said when these two ideologically opposed individuals "agree on something, it's time to listen to at least one of them."
"Most of you already know Bill Maher's thinking on America's longest war – no, not that one – the war on drugs," said O'Donnell. "Richard Nixon declared the war on drugs in 1971 while he was already in the process of losing the war in Vietnam. Nixon, of course, lost the war on drugs as has every president since Nixon but no president has the courage to admit defeat in that 41-year war."
O'Donnell told his audience about Will's recent column denouncing the war on drugs as a failed policy arguing that it's a failed, expensive government program. "A $200 transaction can cost society $100,000 for a three-year sentence," writes Will.
The MSNBC host then lightheartedly accused Will of having a "bleeding heart" when he writes that "imprisoning large numbers of dealers produces an army of people who, emerging from prison with blighted employment prospects, can only deal drugs."
O'Donnell played a clip of Colombian President Juan Manuel Santos at the weekend's Summit of the Americas saying how Colombia has suffered most in the war against drug trafficking. O'Donnell returned and said that he believed Columbia wants America to decriminalize marijuana and cocaine. He then played president Obama's response, in which he seemed to agree with President Santos.
"The war on drugs has been an utter failure," said Obama. "I think we need to rethink and decriminalize our marijuana laws. But I'm not somebody—but I'm not somebody who believes in legalization of marijuana. What I do believe is that we need to rethink how we are operating in the drug wars, and I think that currently we are not doing a good job."
But upon returning to his segment, O'Donnell admitted he had tricked his audience – that was a clip of Senator Obama in January, 2004. At this weekend's summit, Obama said that he believes, as he said in 2004, "legalization is not the answer." He made no mention of decriminalization of marijuana or cocaine consumption.
Finally, O'Donnell said he believes that Obama is likely to embrace laxer drug laws in his second term. "Although, president Obama thinks it's entirely legitimate to have a conversation about whether our drug laws are doing more harm than good, he has absolutely no intention of having that discussion in the United States until after he is reelected to a second term," said O'Donnell. "With exactly 204 days remaining until the election, makes possibly ending the war on drugs the 204th reason to vote for President Obama on November 6th."
Watch the segment below via MSNBC:
Have a tip we should know? [email protected]