Lawrence O'Donnell, Charles Blow Should Be Ashamed Of Their Conduct In Joe Oliver Interview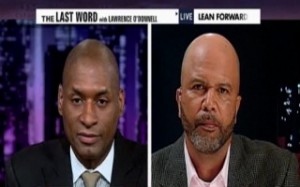 On Tuesday night, MSNBC host Lawrence O'Donnell invited Joe Oliver, friend and spokesperson for unindicted Tryavon Martin shooter George Zimmerman, on his program "The Last Word." O'Donnell also invited New York Times' columnist Charles Blow to participate in the discussion. What followed was a theatrical performance that should give the overtly progressive network and O'Donnell's audience pause.
RELATED: Lawrence O'Donnell And Charles Blow Give George Zimmerman Pal Joe Oliver Epic Grilling
Oliver, who says he left his job as a local correspondent for a CBS affiliate to defend Zimmerman against a flurry of personal attacks in the national media over his role in the shooting death of Trayvon Martin, is a brave soul. To call Zimmerman persona non grata would be a step up from his present status; at least an untouchable can be seen in public. For Oliver to act as a character witness for Zimmerman is courageous by any standard. O'Donnell took the opportunity to berate Oliver, as was to be expected. O'Donnell's "interview" style is what it is. But the behavior of Charles Blow, venerated contributor to the Gray Lady's editorial page, engaged in a juvenile haranguing that demeaned himself and his employer.
Blow's unconvincing impression of cross-examination in the interview with Oliver is cringe-inducing. He routinely interrupted Oliver. He asked and answered his own question and was openly dismissive of Oliver when his assertions are challenged. Blow mocked and chided his subject, making aggressive and leading assertions that Oliver, had he been a less grounded man, would have risen from his seat to protest.
Blow may fancy himself a prosecutor in this particular arena, but his performance (and it was a performance) most closely resembles the faux justice handed down by Andrey Janevich Vyshinsky, Stalin's prosecutor general at the height of the Soviet show trials. Vyshinsky's prosecutorial style characterized by pompous grandiosity and leading so objectionable as to be comical was legendary. He played to an audience, much like Blow, nursing a blood lust that must be sated. Vyshinsky always delivered – much like Blow did for O'Donnell's loyal audience of progressives. This spectacle was a show trial.
There will be a grand jury in the Zimmerman case and there will likely be an indictment handed down. Those that are passionate about this case and feel there may have been misconduct that may prevent Martin from facing justice should protest. They should feel free to vent their emotions. But those few blessed with a national television program should feel the weight of responsibility on their shoulders. Restraint should be the hallmark of their coverage of this divisive pending criminal case.
But why get in the way of a good mob? These petty details would tamp down the raw emotionality of the moment, stoked masterfully by Blow and O'Donnell (in the interview, Washington Post columnist Jonathan Capehart was so restrained and respectful of Oliver that O'Donnell cut him off in the middle of a sentence. Capehart obviously didn't get the memo – impartial deliberation was not what they were looking for).
I wish I could say that O'Donnell's program last night broke from form, but it did not. The addition of Blow to the mix was just over the top. They know precisely what they are doing, and it is great television.
Perhaps they were taken by the passion of the moment and their better judgment was consumed by righteous justification. One can only hope that in reflective moments of introspection, or even when they review Tuesday night's tape, they feel a touch of shame for their role in fanning the flames of racial hatred that surround this case.
The collective wail from progressives is "justice" but it sounds an awful lot like "vengeance." What progressives like Blow want is not due process. It is a snarling mob. Anyone who aggravates such a lawless, base, reptilian sentiment should be ashamed.
Watch the segments via MSNBC below:
PART I:
PART II:
Have a tip we should know? tips@mediaite.com