Lawrence O'Donnell: GOP & Tea Party Gave Obama Gift Of Being Absurdly Unreasonable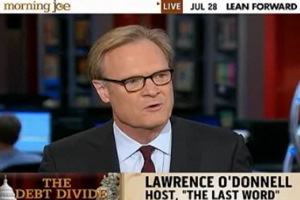 Despite an earlier discussion on Morning Joe that President Obama was "invisible" and not tough enough in negotiating with Tea Party Republicans, Lawrence O'Donnell stopped by to try and convince Joe Scarborough and The New York Times that Obama is actually doing everything correct right now. O'Donnell argued that Obama is "absolutely winning the perception that he is the one who is reasonable."
O'Donnell believed that the Obama White House is engaged in some very smart, long-term political thinking:
"The New York Times doesn't get it . . . no one gets it in the daily press because they think every day is real. They don't understand this is a fake day. . . . It's the management of a disaster . . . this is one of those things where we all look bad and so what the White House has done masterfully is try to make sure their guy doesn't look as bad as the other guys. And what the Tea Party and what the Republicans have done is given them this gift of being absurdly unreasonable."
John Heileman agreed that with the narrative of this story shifting so drastically every day, it's hard to conclude any one is a winner or loser politically until a few months from now. Yet O'Donnell was most pleased that Obama actually didn't accept any of the previous deals on the table, since each were filled with "political poison" that would have been much worse for the President. Instead, by continuing to suggest he's willing to compromise, O'Donnell predicts Obama is scoring points with independent voters.
Watch the clip from MSNBC below:
Have a tip we should know? tips@mediaite.com