Lawrence O'Donnell: To Get The Secret Herman Cain Files, It's Time To Occupy The National Restaurant Assoc.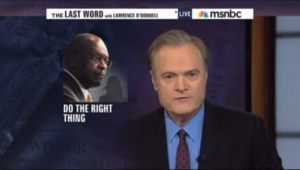 On Thursday, Lawrence O'Donnell reported on the recent challenge posed by, as the host referred to him, Herman Cain's "breathtakingly incompetent campaign manager," Mark Block, for anyone with proof of Cain having committed an act of sexual harassment to come forward as "face Mr. Cain."
O'Donnell said Black was able to make that challenge because he felt he had the protection of confidentially agreements made with the National Restaurant Association, or, as O'Donnell described it, an "anti-minimum wage lobbying operation."
RELATED: As Pollster Reveals His Knowledge Of Cain's Behavior, Accuser's Lawyer Says She Will Not Go Public
He added that Sue Hensley, the senior vice president of public affairs communication for the National Restaurant Association, confirmed that the association's outside counsel had been contacted by a lawyer for one of the women who had accused Cain of misconduct and asked this his client be able to publicly discuss the details of her claim against the former businessman. He then offered the headquarter's address and nearest metro stop, in case any viewers are considering "occupying the National Restaurant Association." O'Donnell also extended an invitation to National Restaurant Association employees to come onto his show and explain whatever decision they come to regarding what the group decides to do about its files on Cain.
Later, he encouraged viewers to boycott the businesses associated with the National Restaurant Asssociation, opining that most of them provide junk anyway. UM, NOT KRISPY KREME.
Watch the segment, via MSNBC:
Have a tip we should know? tips@mediaite.com