Lawrence O'Donnell Warns O'Reilly To Avoid 'Weinergate' By Waving '04 Sex Scandal Affidavit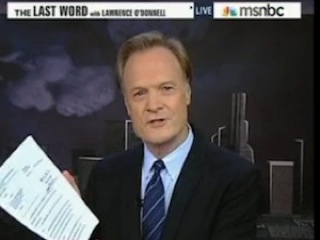 Lawrence O'Donnell unveiled a new aphorism tonight upon which he declared the nation turned: "if you are a white man, you are going to have your own TV show in America… eventually," along with your own sex scandal. With "Weinergate" running on all cylinders, O'Donnell used this rule of life against timeslot neighbor Bill O'Reilly to warn that he who has been involved in sex scandal claims should not cast the first stone.
In a very lengthy "Rewrite" segment tonight, O'Donnell called O'Reilly's discussions of Rep. Anthony Weiner "really, really uncool," as O'Reilly "provided the eyeroll material in [his] own sex scandal" and, as such, keeping quiet is "just the classy thing to do." O'Donnell clarified that he himself had not had a sex scandal, and that he didn't mind if the worst was true about Rep. Weiner, as his "political currency is not stamped with… hypocrisy," by virtue of being a very liberal Democrat not running on a "family values" platform. He also cushioned the blow he was about to give O'Reilly with a rotating slideshow of politicians that had been caught in sex scandals sharing the screen with him: Eliot Spitzer, Newt Gingrich, Larry Craig, Chris Lee, David Vitter, among others, eventually leading to photos of Thomas Jefferson, Teddy Roosevelt and other notable historical figures.
Then he gave O'Reilly what he called "a lesson in taking the high road" by mentioning without mentioning "the official filings of the 2004 lawsuit against [O'Reilly] for sexual harassment and hostile work environment… you know, the stuff involving the loofah and the falafel." "I'm putting down this weapon," O'Donnell told O'Reilly through the screen, though by this point the damage had been done. After this assault, O'Donnell laid down his own law on covering sex scandals again: those who have not been accused of sexual misconduct, "they can take as many shots at Weiner as they want, I don't care. But you, Bill? C'mon."
The problem with the operative premise that O'Donnell employs to attack O'Reilly is that he assumes O'Reilly is going after Rep. Weiner from a moral perspective– which is a reasonable assumption to make if one hasn't watched The O'Reilly Factor since about 2002. Except the assumption didn't actually manifest itself in reality: O'Reilly's argument about Rep. Weiner's behavior has been consistently that he wants the FBI to investigate because he sees hacking as a major national security threat (though skeptics can reasonably see this as a politically expedient strategy for the self-defined traditionalist).
During Tuesday's program— the first to address the issue– O'Reilly demanded that FBI director Robert Mueller take charge of the investigation, saving his ire for the authorities and mentioning Rep. Weiner only as much as necessary to explain the story. On yesterday's program, O'Reilly used Wikileaks as an example of why the issue is a problem, taking care to note that he perceived this as a threat to the security of the federal government.
Tonight he went as far as to tell Glenn Beck that he didn't "really care about that stuff"– meaning the actual photo in question or the substance of the tale– but only that "the Chinese are over there" and anything could happen if a Congressman could be so compromised. None of these arguments correlate to O'Donnell's thesis that judging the moral behavior of others is a privilege reserved to those who uphold their own standards. O'Reilly didn't judge Rep. Weiner's moral behavior– only the professional work of the federal authorities.
Video of O'Donnell's "Rewrite" tonight via MSNBC below:

Have a tip we should know? tips@mediaite.com