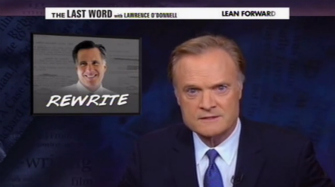 On Tuesday evening's edition of MSNBC's The Last Word, host Lawrence O'Donnell criticized presumptive Republican nominee Mitt Romney for having the "soulless audacity" to do what O'Donnell considers a "rewrite" of civil rights history.
O'Donnell started with a recent clip of Romney saying at a campaign event: "Here we are in the most prosperous nation on earth, but millions of our kids are getting a third-world education and America's minority children suffer the most. This is the civil rights issue of our era. And it's the greatest challenge of our time."
O'Donnell took great offense to this quote, saying that Mitt Romney doesn't understand that "the civil rights issue of Mitt Romney's era was civil rights." And so began the theme of O'Donnell's "Rewrite" segment, focusing on the ways Romney was on the wrong side of the 1960s civil rights fights.
"Mitt Romney had a chance to march with Dr. [Martin Luther] King when he was 16 years old. He had a chance to march with history and he didn't do it," O'Donnell said. "The civil rights martyrs James Cheney, Andrew Goodman and Michael Schwerner were murdered trying to help people get the right to vote in Mississippi. A month after [the three students] gave their lives for it, the Civil Rights Act was signed into law because the civil rights issue of Mitt Romney's era was civil rights."
He continued: "The Voting Rights Act was signed into law two months after Mitt Romney graduated from high school. Did Mitt Romney attend any of the civil rights demonstrations in Detroit during his high school years? No, not one. Did other american high school kids, both rich and poor, white and black, throughout this country attend civil rights demonstrations in the 1960s in Detroit and elsewhere? Yes. By the thousands. That's because they knew that the civil rights issue of Mitt Romney's era was civil rights."
O'Donnell then slammed Romney over his support for the Vietnam War:
Mitt Romney participated in exactly one demonstration in college. It was one of the earlier campus demonstrations of the Vietnam War. Some Stanford students organized a protest against the draft. Romney joined a counter-protest in favor of the draft. That's right, Mitt Romney is one of the very, very few Americans who can claim to have been in a demonstration in favor of the draft during the Vietnam War. Not that Romney was willing to be drafted himself — oh, no, no, no. Nor was Romney willing to enlist in the military whose draft he supported and whose war he supported. Romney publicly urged his government to draft unwilling participants into the war, to draft college classmates of his into the war, to send them to their deaths as long as Romney didn't have to go to war himself. Romney went to france instead, as a mormon missionary, which he used to preserve his deferment from the draft. While he was trying, and mostly failing, to convert Parisians to Mormonism, while Romney was safe in France and tens of thousands of boys his age were being killed in Vietnam, Martin Luther King was assassinated in 1968. Perhaps Romney could tell us what the civil rights issue was in Paris in 1968, but in Mitt Romney's country, in the then not-so-united United States of America, the civil rights of Mitt Romney's era was civil rights.
O'Donnell explained that even Romney's father, former Michigan Governor George Romney, had been a part of the fight for civil rights in some capacity, reiterating the theme once again that "If you are a 65-year-old American, the civil rights issue of your era was civil rights."
"Martin Luther King, Jr. knew that, James Cheney knew that, Andrew Goodman knew that. Michael Schwerner knew that and Republican Governor George Romney knew that. But Mitt Romney — the man who now has the soulless audacity to read the teleprompter words of a lecture to us written by his speechwriters about civil rights — that same Mitt Romney does not know that the civil rights issue of Mitt Romney's era was civil rights."
Check out the segment, via MSNBC:
Have a tip we should know? tips@mediaite.com