Lawrence O'Donnell And Chuck Todd Predict The 'Embarrassment' Potential Of The Trump Debate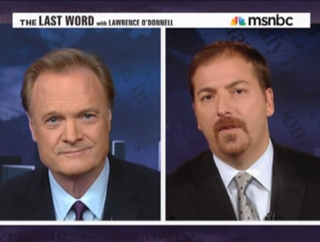 The last time Donald Trump was a relevant political actor in the news cycle, it took a little longer than for most commentators for Lawrence O'Donnell to let go. Now that he's back, O'Donnell began today's episode of The Last Word with a thorough excoriation of Trump, Newt Gingrich for meeting with him, and a post-mortem with Chuck Todd on his Trump interview this morning.
RELATED: Donald Trump Keeps Feud With Lawrence O'Donnell Alive With Fairly Tame Hate Mail
Noting that Gingrich had "debased himself by meeting with Trump in New York– and it is not easy for Newt to debase himself," O'Donnell began by wondering whether Gingrich enjoyed the time with Trump because he was "finally hanging out with a guy who is tied in marriages." He went on to hit Trump harder than Gingrich, however, bringing up his repeated claim that Trump "does not have enough money to finance a presidential campaign… and is not a billionaire, he simply plays on one television." He then turned to the contentious conversation Todd had with Trump this morning, as Todd had suggested that a Trump endorsement could do more harm than good, something Trump replied indignantly he knew was not possible, has he had studied polls at the Wharton School of Business.
"I do really believe that someone will be worse off if you endorse a Republican candidate for president and I don't believe you studied polls at Wharton," O'Donnell replied. "You were an undergraduate for two years at Wharton in the 1960s, before polls were even invented," adding that Wharton is not a political science school.
RELATED: Lawrence O'Donnell: Newt Gingrich Is The New Herman Cain
O'Donnell then turned for further discussion to Todd himself, who noted that, among others, Karl Rove was not happy with this development (as this broadcast aired, in fact, Rove was hopping mad over at Fox News), and "wants the Republican National Committee to officially get involved," the problem with that being that "with every hour, another candidate agrees to the debate."
O'Donnell proposed that there was a good reason for the establishment to be worried. "They will produce stuff for us to use the next day," he explained, but "all you can do is end up with… varying levels of embarrassment." Essentially, O'Donnell argued there was no way to "win" this debate for anyone but Donald Trump. Todd agreed that it would be "a de facto episode of The Apprentice," adding that "how some of our friends at other news organizations have gone about [debates] have made it sort of ugly."
The segment via MSNBC below:

Have a tip we should know? tips@mediaite.com