Lawrence O'Donnell And Dave Weigel Dissect The Slim Pickings In The GOP Primary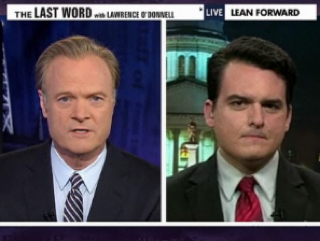 The hearty liberal mockery of Thursday's Republican primary debate took center stage on last night's Last Word, and it's hard to see how Lawrence O'Donnell could resist being snide about a Republican field where even the head of the RNC was openly hoping other people run. O'Donnell discussed whatever it was that happened last Thursday with Dave Weigel, who expressed far more excitement for Ron Paul and Herman Cain than Tim Pawlenty and Rick Santorum. 
Of the candidates that showed up to the debate, O'Donnell reckoned that only Pawlenty and Santorum were credible, with Santorum being a "reasonable choice" for vice president despite being radical on social issues. Given that these were the only candidates he cared about, O'Donnell asked Weigel– who attended the event– how the "Pawlenty versus Santorum debate" went. "I don't think I was watching that," Weigel responded, though, if he had to evaluate them, he noted that Santorum was the only one on the stage with extensive television experience, and it showed. Meanwhile, he compared Pawlenty to 2008 Mitt Romney, noting that "he benefits inch by inch for showing up to anything." But neither of them "excite people," Weigel concluded, then turning to the more colorful characters in the debate.
While he joked that no other absent candidates felt that "by not competing with Herman Cain they missed a great opportunity," he did note that he was exciting to watch and sparked interest in many on the left, while the object of most of the applause of the night, Rep. Paul, "proved that he will again be there irritating Republicans," about as much as he could ask for.
The discussion via MSNBC below:

Have a tip we should know? tips@mediaite.com