Lawrence O'Donnell: Bachmann's Team No Longer Has To Worry About Her Magazine Covers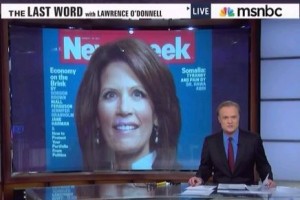 If there's one thing MSNBC's Lawrence O'Donnell revels in, it's seeing his predictions come to fruition. So he seemed to be in particularly high spirits Thursday night as he took a look at how the current GOP presidential hopefuls are faring. "As predicted here after his very first presidential debate on MSNBC," he reported, "Rick Perry's support is falling, and falling fast."
He pointed to a Fox News poll of Republican voters that shows Perry's support has slipped, thereby rendering Mitt Romney the GOP front-runner once again. O'Donnell added that Herman Cain has replaced Bachmann as the "hopeless" candidate that Republicans like best, with Michele Bachmann now tied for last place with Rick Santorum. Her team "need never again worry about how she might look on magazine covers," he added, referring to the controversy surrounding the odd and unflattering image of Bachmann Newsweek chose to use as its cover. "Her fifteen minutes of presidential campaign fame may be over sooner than anyone expected." O'Donnell also noted that Bachmann reportedly has a "skeletal staff" and that a computer vendor had threatened to shut down power to her campaign headquarters due to an outstanding bill.
RELATED: Reliable Sources Panel Takes On Bachmann Newsweek Cover: "It Was A Very Unflattering Photo"
Moving on to New Jersey Governor Chris Christie — who, whether he likes it or not, has been monopolizing discussion regarding the GOP candidate field as of late — O'Donnell said that Republican voters can actually take him or leave him, as new poll results show that only 40 percent of GOP voters think he should enter the race, versus 33 percent who believe he should stay out.
Watch the segment for yourselves, via MSNBC:
Have a tip we should know? [email protected]