Lawrence O'Donnell Belabors Uncensored Airing of Rob Ford P*ssy-Eating Clip, Humiliates Mrs. Ford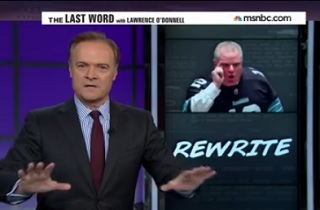 Embattled Toronto Mayor Rob Ford made more hilarious news Thursday with his denial that he ever told a staffer he wanted to perform cunnilingus on her, and his offbeat assertion that "I've got plenty to eat at home."
On Thursday night's The Last Word, host Lawrence O'Donnell made a gleeful meal out of the permission he'd secured to run the clip unedited, but finished with a bitter dessert.
At a press conference Thursday morning, Ford addressed allegations stemming from a court document that was released Wednesday alleging, among other things, that he had explicitly declared his appetite for then-adviser Olivia Gondek:
Isaac Ransom, Ford's former communications assistant, told police "there have been rumours that Mayor Ford has used escorts or prostitutes," and that he believed one of the women partying with the mayor that night may have been a prostitute.

…The document says Ransom also told police the mayor made inappropriate comments that night to his former policy advisory, Olivia Gondek, who now works for Toronto Hydro.

He said Ford's staff contacted her because they thought that Ford would listen to her, but he became "inappropriate" and claimed to have slept with her, the document says. Ransom alleged Ford told her, "I'm going to eat you out" and "I banged your pussy," and was "somewhat upset by it but at the same time didn't seem too phased by the comments."

Later that night, at about 4 a.m., when Ford was being walked out of City Hall after an alleged physical altercation with a staff member, he told a female guard that he "was going to eat her box," Ransom said.
In response, Ford blurted, to reporters, "The last thing was Olivia, it says that I wanted to eat her pussy. I never said that in my life to her. I would never do that. I'm happily married. I have more than enough to eat at home."
This is genuinely funny on several levels, not the least of which is Ford's apparent misunderstanding of the mechanics of the act, to which serving size isn't actually all that relevant. O'Donnell pokes good, sophomoric fun at Ford, does several extended riffs mocking the network's standards and practices department, and the clip he airs of a Canadian reporter's reaction to the scene is priceless.
But the segment is pegged to Ford's later apology for the remarks, at which he posed his wife, Renata Ford, at his side. Whatever the reason for that bit of sick stagecraft, especially given Ford's earlier signoff, is between the two of them, but there was nothing funny about it. Except to O'Donnell, who concluded the segment by dryly observing "Okay. So one place to start, respecting the Mayor's family's privacy, in particular his wife's privacy, would be for the Mayor to not have his wife standing beside him at his next apology press conference, and maybe the Mayor should stop talking about how much he has to eat at home."
MSNBC missed a chance to redeem the segment, too, by placing an Allstate commercial in between the Ford segment and the commercial that followed it, an ad for Biotene oral rinse.
Here's the clip, from MSNBC's The Last Word:
Have a tip we should know? [email protected]