Lawrence O'Donnell Blasts New York Times For 'Falling For' Palin 2012 Speculation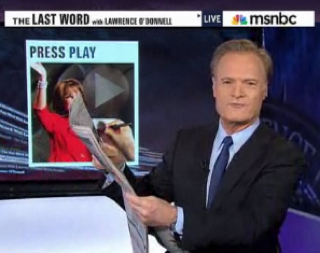 With word of Sarah Palin launching a tour across America on Sunday, the speculation in the press that she may announce that she is thinking about announcing whether or not she will announce a run for the presidency once again boomed, though not everyone in the media found the tour interesting. Lawrence O'Donnell was especially infuriated that Palin was being taken seriously, and went after an unlikely foe for publishing it: the New York Times.
O'Donnell began his segment labeling the political press "the most gullible press in America" and lamenting they learned "absolutely nothing from the [Donald] Trump experience." But while expecting most of the media to follow Palin's adventures breathlessly, O'Donnell seemed particularly dismayed with the New York Times— the "greatest newspaper in the country," which he said had "jumped the shark." How? Palin got the A1 treatment, as well as an extra half-page, for, among other things, buying a home. "My house in theory could serve as the base of a presidential campaign," O'Donnell joked, also calling the former aides she recently rehired the "most desperately available aides in American politics," once again meaning little for the 2012 race.
He then went on to analyze Palin's own behavior– using the term "fire in the belly" to get her fans fired up about a possibility of her run. She used the phrase four times on On the Record with Greta van Susteren, words, O'Donnell said, "chosen to manipulate press excitement about her." This all left the question of why Palin was ginning up said excitement open if she didn't want to run. "I can speculate that she loves being rich," O'Donnell noted cheekily, adding that Palin is "smart enough to realize that she doesn't have a better answer now to the question four years ago of what newspaper she reads" and must know that other candidates could "humiliate" her in a debate. This endeavor, then, is to "drive up her price as a reality TV star," as "the day that it becomes absolutely clear to everyone that doesn't already get it that Palin will never run for president– on that day, she becomes worth half as much or less as a reality TV star."
The segment via MSNBC below:

Have a tip we should know? tips@mediaite.com